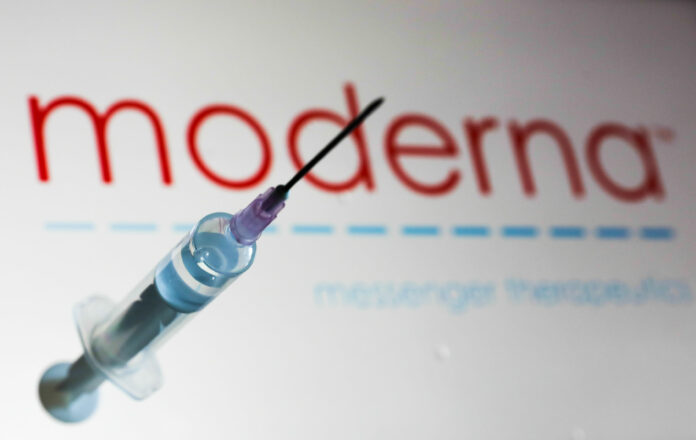 Moderna is charging between $32 to $37 per dose for its coronavirus vaccine for some customers, under cheaper "pandemic pricing," it said Wednesday.
The Cambridge, Massachusetts-based company is currently in discussion for larger volume agreements that will have a lower price, Moderna CEO Stephane Bancel said on a conference call discussing the company's second-quarter financial results. 
"We are working with governments around the world and others to ensure a vaccine is accessible regardless of ability to pay," he said. "We're currently in a pandemic as defined by WHO. At Moderna, like many experts, we believe the virus is not going away and there will be a need to vaccinate people or give them a boost for many years to come."
Moderna defines a small order of its vaccine as "in the millions," he said. The price the company is charging for small orders is higher than the $19.50 per dose agreed to by U.S. drugmaker Pfizer and German biotech BioNTech in a deal with the U.S. government.
Bancel said the vaccine will be priced "well-below value" during the pandemic period. After the virus is under control and considered endemic, the pricing will follow the traditional market in line with other commercial vaccines, he said. 
"We'll work with the market," Bancel said.
Moderna said it has begun talks with multiple countries to supply its potential coronavirus vaccine, called mRNA-1273, and has already received about $400 million in deposits as of July 31. Last week, the company started a phase three trial testing how safe and effective it is on 30,000 people with results expected as early as October. The company said it anticipates completing enrollment for its phase three trial in September.
Moderna's experimental vaccine, which is being developed with the help of the National Institutes of Health, contains genetic material called messenger RNA, or mRNA, which scientists hope provokes the immune system to fight the virus. 
The company received $483 million from the Biomedical Advanced Research and Development Authority in April to support its vaccine development. Last month, it announced it received an additional $472 million from the U.S. government. 
Earlier Wednesday, Moderna reported a fivefold increase in second-quarter revenue primarily on its coronavirus vaccine work. Revenue jumped to $66.4 million during the quarter, more than five times the $13.1 million it took in during the same period last year.