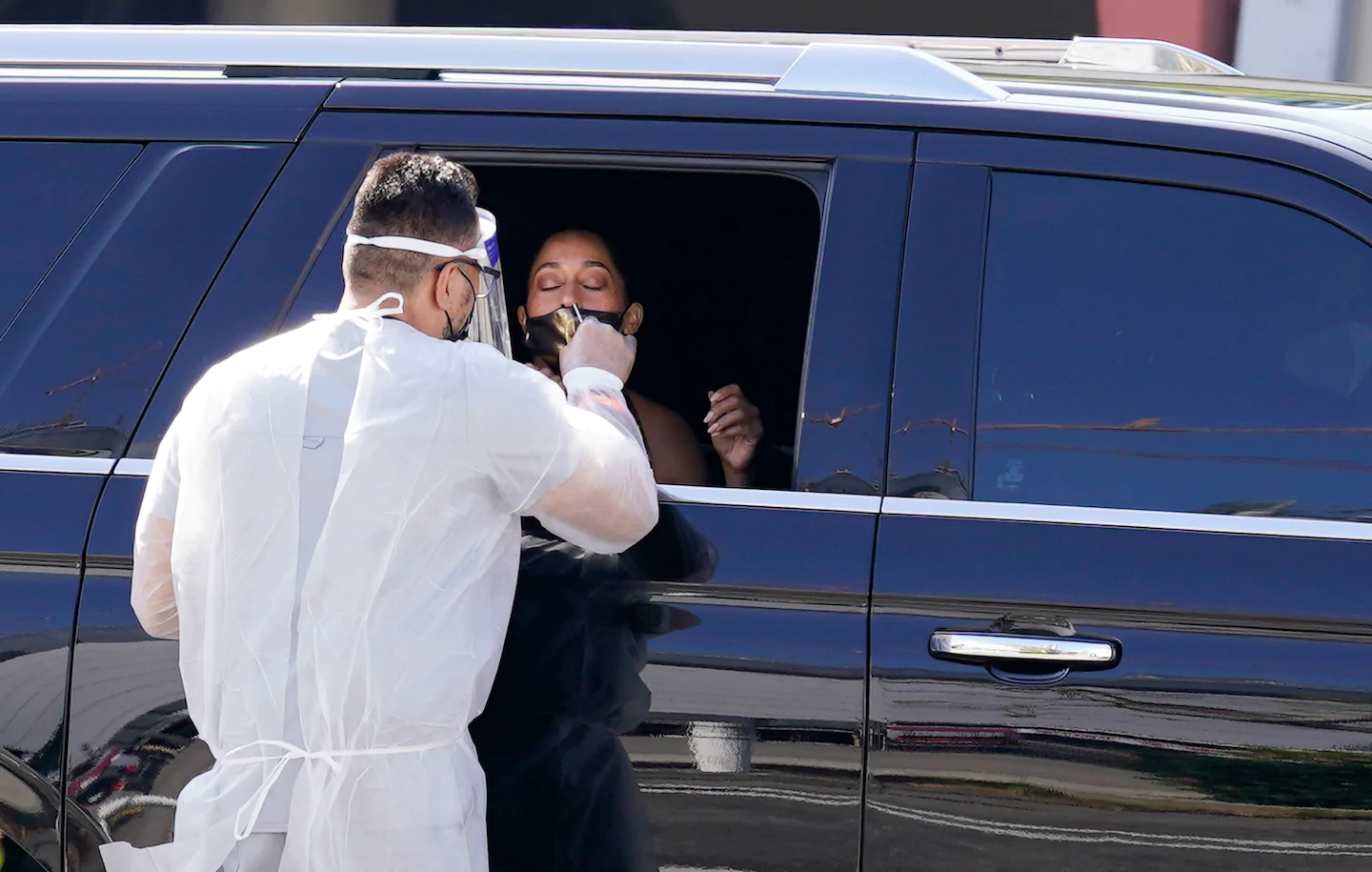 Here are some significant developments:
The global tally of people who have died of the coronavirus is rapidly approaching 1 million, while the United States will soon reach 200,000 fatalities. At least 30.7 million cases have been reported worldwide, with the United States contributing more than 6.7 million infections to that count.

Britain's chief medical officer warns that the country "is heading in the wrong direction" as the health secretary says the government may be forced to reimpose new restrictions if the number of coronavirus cases continues to rise.

Rep. Jahana Hayes (D-Conn.) said Sunday that she had tested positive for the coronavirus after visiting three facilities in an attempt to get a diagnosis. "My experience and the experience of my staff underscore the need for a nat'l testing strategy with a coherent way to receive speedy, accurate results," she wrote on Twitter. "This level of anxiety and uncertainty is untenable."
Nearly 11,000 people have been exposed to the coronavirus on flights, according to the CDC, but due to incomplete contact tracing information, the agency has not been able to confirm any cases where transmission occurred.
More than 4,500 students, teachers and staff at Texas schools have tested positive for the coronavirus since the school year began, according to the Dallas Morning News.
The Emmy Awards took place with no live audience Sunday night, with some honorees wearing their pajamas to the virtual "red carpet."
September 21, 2020 at 4:52 AM EDT
British official to warn country is 'heading in the wrong direction'
The British government's chief medical officer, Chris Whitty, was set to warn on Monday that the country "is heading in the wrong direction," as hospitalization rates and the number of daily new cases are surging.
A transcript of Whitty's remarks was obtained by Reuters and other news organizations ahead of a briefing that is set to take place later on Monday.
The warnings comes amid reports that the British government is considering the imposition of new restrictions in London or potentially across England to curb the spread of the novel coronavirus. Those measures would likely differ from the lockdown imposed in spring, when many businesses and schools shut down entirely.
Seeking to avoid nationwide measures, Britain had in recent weeks imposed localized measures to counter a rise in new cases.
But indications are mounting that the strategy may be insufficient.
"We have a choice, and the choice is if everybody follows the rules … then we can avoid further measures," Health Secretary Matt Hancock told the BBC on Sunday. "But the alternative to that choice is that we will have to bring in more action. And we don't want to do that, but every single person has a part to play in this."
The Labour opposition party called on the government to stop blaming British citizens for surging infections. Despite months of preparation since the first wave of the virus, the country's testing system appears to have approached or exceeded its capacity in some regions.
Britain has so far reported 41,688 deaths and almost 400,000 cases of the virus.
Over the summer, the number of daily new infections had dropped below 500 — the country now sees around eight times more daily infections.
Reports that the British government was pondering new measures, along with growing concern over outbreaks elsewhere in Europe, helped to send stocks tumbling on Monday, with London's FTSE 100 index down 2.7 percent. The pan-European STOXX 600 index had fallen 2 percent by 8 a.m. GMT.
By Rick Noack
September 21, 2020 at 4:52 AM EDT
New Zealand has successfully controlled resurgence of infections and will lift most restrictions, PM says
New Zealand Prime Minister Jacinda Ardern announced plans to lift coronavirus-related restrictions for most of the country on Monday, saying that the mystery outbreak that appeared in August now appears to be largely under control.
Limits on large gatherings will remain in place for Auckland, the center of the outbreak that prompted a return to some lockdown restrictions last month. Currently, gatherings of more than 10 people are banned, but on Wednesday the maximum size will grow to 100, Ardern said. Within two weeks, all restrictions will be removed.
New Zealand ended its original nationwide lockdown in June, and lifted all restrictions while keeping an ongoing border closure in place. The country went more than 100 days with no instances of community transmission until the Auckland outbreak was detected.
Last month, amid the resurgence in cases, Auckland returned to a strict lockdown while residents of other parts of the country were told to wear masks when social distancing wasn't possible, and to stay home whenever possible. The restrictions are being removed in time for New Zealand's parliamentary election on Oct. 17, when Ardern will be up for reelection.
"Our actions collectively have managed to get the virus under control," Ardern told reporters on Monday, according to Reuters.
New Zealand has reported just 1,815 coronavirus infections and 25 fatalities to date, and the number of new cases being reported each day has remained at less than 10 since the start of September.
By Antonia Farzan
September 21, 2020 at 4:22 AM EDT
Like running a country: What it meant to be a schools superintendent this summer
He was wearing one of his beloved bow ties, which was the only normal thing about the situation.
It was July 21. As had been the case all summer, Alexandria City Public Schools Superintendent Gregory C. Hutchings Jr. was on a Zoom call.
He was sitting in his dining room, which is what counted as his workplace these days. Long ago forced to abandon his spacious corner office — with views of green treetops, rippling as far as the eye could see — he had lately also been forced out of his wife's home office. The Zoom chatter gave her headaches, and Hutchings was on calls from 8:30 a.m. to 9 p.m. most days. Sometimes on weekends, too.
"The big question this week," said Simma Reingold, a managing partner at Education Elements, the consulting firm Alexandria had hired to help plan the return to school, "the question we need to answer is: Are both the hybrid and virtual model feasible? And which one do we offer to our community?"
By Hannah Natanson
September 21, 2020 at 3:52 AM EDT
Lake of the Ozarks 'Bikefest' draws thousands to coronavirus 'red zone'
Large gatherings in Missouri's Lake of the Ozarks, which became nationally notorious for hosting crowded, mask-free pool parties over Memorial Day Weekend, are once again putting public health officials on edge.
This time around, the event raising eyebrows is Bikefest, which typically draws upward of 100,000 bikers to the Ozarks region. Though it's not yet clear how many bikers attended this year's rally, which began Wednesday and wrapped up on Sunday, the Kansas City Star estimated that the total was in the thousands.
Local and state officials largely did not require masks or social distancing for the rally, or put any capacity limits on bars and restaurants. That's led experts to worry that the gathering could become another "superspreader" event like South Dakota's Sturgis Motorcycle Rally, especially since the counties around Lake of the Ozarks are considered a "red zone" by the White House Coronavirus Task Force.
As the St. Louis Post-Dispatch noted, Bikefest attendees could enter the lottery for a Harley-Davidson motorcycle by collecting "passport stamps" showing that they'd visited 24 local restaurants and bars. "These events tend to draw many people into crowded spaces," Steve Edwards, chief executive of local health-care system CoxHealth, told the paper. "It's especially worrisome if participants gather indoors at bars and restaurants which have proven to be high-risk areas."
While the much-maligned Memorial Day parties didn't seem to lead to a spike in infections, central Missouri now has a 19.3 percent positivity rate, nearly twice the statewide average. Meanwhile, the Ozarks region has witnessed one of its best summers on record, with some local officials attributing the surge in visitors to media attention. After Lake of the Ozarks appeared on TMZ, a local businessman who owns vacation rentals in the area told the Star, "we were getting calls from all over. That was the best publicity that money could never buy."
By Antonia Farzan
September 21, 2020 at 3:22 AM EDT
Florida State football coach Mike Norvell tests positive for coronavirus
Florida State football coach Mike Norvell tested positive for the novel coronavirus and will miss the Seminoles' next game, the school announced Saturday.
The first-year coach said in a statement he tested positive Friday after negative tests in each of the previous two rounds this week. The ACC mandates at least three rounds of testing per week for each institution during the football season.
Norvell would be the first head coach in major college football to miss a game because of a reported positive test. Toledo's Jason Candle and UCLA's Chip Kelly tested positive in July and March, respectively.
By Gene Wang
September 21, 2020 at 2:52 AM EDT
More than 4,500 students, faculty and staff at Texas public schools have tested positive since returning to campus
More than 4,500 students, faculty and staff have tested positive for covid-19 since Texas reopened schools for in-person learning, according to data released by the state for the first time on Thursday.
A dashboard from the Texas Education Agency and the Department of State Health Services shows that 2,344 public school students tested positive between from Aug. 2 to Sept. 13, and that the number of new infections has steadily increased as more and more schools reopen for the fall semester. Roughly 2,175 faculty and staff tested positive during that same time period.
The number of students testing positive for the coronavirus equates to roughly 0.2 percent of those resuming in-person learning. According to the dashboard, more than 1.1 million students returned to classrooms during the first week of the fall semester — roughly a fifth of the 5.5 million students that Texas public schools typically educate each year. The state has not released data on how many of the school system's 800,078 employees have returned to campus in person.
Texas' data suggests that infections among both students and staff rose by 48 percent between the week ending on Sept. 6 and the week ending Sept. 13, an increase that may be attributable to the fact that more schools are resuming in-person classes, according to the Dallas Morning News.
By Antonia Farzan
September 21, 2020 at 2:22 AM EDT
WNBA playoff game between Storm, Lynx postponed over coronavirus test results
The first game of the WNBA semifinal playoff series between the Seattle Storm and Minnesota Lynx was postponed Sunday because of what the league said were inconclusive coronavirus test results for the Storm.
Players have entered isolation and were undergoing additional tests, the league said, with a reworked schedule for the best-of-five series coming when more is known. The decision to postpone the game was made, the WNBA said, "out of an abundance of caution."
The decision came shortly before tipoff. WNBA Commissioner Cathy Engelbert said the league "needed more testing and data. As soon as I talked to them, they were concerned about health and safety, and it wasn't about basketball at that point."
By Cindy Boren
September 21, 2020 at 1:53 AM EDT
Rep. Jahana Hayes tests positive for covid-19, highlights testing woes
Rep. Jahana Hayes (D-Conn.) became the latest member of Congress to test positive for covid-19 on Sunday, joining roughly a dozen members of the House who have contracted the virus to date.
In a series of tweets, Hayes said that she was not experiencing any symptoms "except for breathing issues which are being monitored." She took the opportunity to call for a robust national testing strategy, noting that she had attempted to get tested at two separate urgent care centers on Saturday without any success, and only learned she was infected with the virus after getting an appointment at a third facility on Sunday morning.
"Contrary to popular belief, [members of Congress] do not get tested regularly," Hayes wrote. "In fact we are not mass tested at all in DC. Masks, social distancing & frequent floor cleanings are the precautions that are taken in the House. I have taken every possible precaution and still contracted coronavirus."
In a separate statement on Saturday, Hayes said that she sought out testing after learning that she had been in close contact with a staffer who tested positive for covid-19. All employees at her Connecticut and Washington, D.C. offices would be working remotely until further notice, she said, and her staff had been told to quarantine and get tested.
On Sunday, Hayes posted a video of herself receiving a nasal swab test and said that she would self-isolate for 14 days.
"My experience and the experience of my staff underscore the need for a nat'l testing strategy with a coherent way to receive speedy, accurate results," she wrote. "This level of anxiety and uncertainty is untenable."
By Antonia Farzan
September 21, 2020 at 1:23 AM EDT
D.C. school leaders struggle to reopen buildings for small groups this month as staff reluctance persists
D.C. Mayor Muriel E. Bowser (D) said she wants to bring small groups of students back into schools by the end of September, but with less than two weeks to go, her administration has no plan and has not reached an agreement with teachers to return to classrooms.
The mayor on Thursday referred questions about reopening buildings to the school system's chancellor, but he had almost no details. The school system, he said in a statement, is "actively considering options" for a return to in-person school and would prioritize serving students "furthest from opportunity."
Bowser has said she aims to offer all students the option to return to classrooms part time by Nov. 9 — when the second term begins — under what is commonly known as a hybrid schedule.
By Perry Stein
September 21, 2020 at 12:52 AM EDT
CDC acknowledges risk of aerosol transmission
Updated guidance from the U.S. Centers for Disease Control and Prevention acknowledges that the coronavirus is commonly spread through aerosols that hover in the air, as many medical experts have argued since the spring.
The CDC's website previously stated that the virus primarily spreads between people who come into close contact — meaning within roughly six feet — and is transmitted "through respiratory droplets produced when an infected person coughs, sneezes or talks." The revised guidance notes that the virus can additionally be spread by means of "small particles, such as those in aerosols" that linger in the air, and that breathing and singing can also lead to transmission.
"These particles can be inhaled into the nose, mouth, airways, and lungs and cause infection," the guidance says. "This is thought to be the main way the virus spreads."
The changes, which appeared Friday but were first highlighted by CNN on Sunday, point to "growing evidence that droplets and airborne particles can remain suspended in the air and be breathed in by others, and travel distances beyond 6 feet" and cite choir practices, restaurants and fitness classes as potential danger zones.
The update also warns that indoor spaces without good ventilation increase the risk of transmission, a change that carries significant implications for reopening schools, as many scientists pointed out on social media Sunday.
Scientists in other countries, such as Japan, concluded in early spring that aerosol transmission was occurring, but the United States and World Health Organization have been slow to catch on. In July, hundreds of scientists signed a letter urging the WHO to acknowledge aerosol transmission, which prompted the organization to state that airborne spread "cannot be ruled out."
By Antonia Farzan
September 21, 2020 at 12:24 AM EDT
Nearly 11,000 people have been exposed to the coronavirus on flights, the CDC says
The Centers for Disease Control and Prevention investigated 1,600 cases of people who flew while at risk of spreading the coronavirus, identifying nearly 11,000 people who potentially were exposed to the virus on flights.
Although the agency says some of those travelers subsequently fell ill, in the face of incomplete contact tracing information and a virus that incubates over several days, it has not been able to confirm a case of transmission on a plane.
That does not mean it hasn't happened, and recent scientific studies have documented likely cases of transmission on flights abroad.
By Ian Duncan
September 21, 2020 at 12:17 AM EDT
As Canada's Parliament returns, Trudeau aims for reset on coronavirus, charity scandal
TORONTO — Canada's Parliament reconvenes next week with a new opposition leader, a new finance minister and a new plan from Prime Minister Justin Trudeau to "build back" the country — and, he hopes, his political fortunes.
After winning reelection last year with a minority government, Trudeau drew positive reviews for his early performance against the coronavirus. But his support began to erode during the summer over his government's decision to tap a charity with close ties to his family to run a grant program for student volunteers. The deal sparked investigations in Parliament, and the ethics czar is investigating him for possible violations of conflict-of-interest laws.
Then the Liberal leader abruptly suspended Parliament last month, a move that allows him to reset his government's agenda — while also halting the committee probes, at least temporarily. Now, amid fears of a second wave of the coronavirus, he'll unveil his priorities Wednesday in a "speech from the throne" — and put it to a confidence vote that could topple his government.
By Amanda Coletta
September 21, 2020 at 12:16 AM EDT
The fall opening of colleges: Upheaval, pandemic weirdness and a fragile stability
When the school year began, Gettysburg College looked well-positioned to weather the tumult of the coronavirus pandemic and Arizona State University seemed vulnerable.
The private liberal arts college in Pennsylvania planned meticulously for the arrival of more than 2,200 students to its small-town campus in August, pledging to test them all for the novel coronavirus and do its utmost to safeguard public health while teaching as much as possible in person.
The public university in Arizona confronted the steep challenge of squelching infection threats on multiple campuses in the Phoenix area as it delivered a mix of face-to-face and online instruction to 74,000 students. What's more, the virus surged across Arizona during the summer and made the state one of the nation's most worrisome hot spots.
Yet Gettysburg's opening crumbled, while Arizona State's held up.
By Nick Anderson, Susan Svrluga, Lauren Lumpkin, Danielle Douglas-Gabriel and Joe Heim