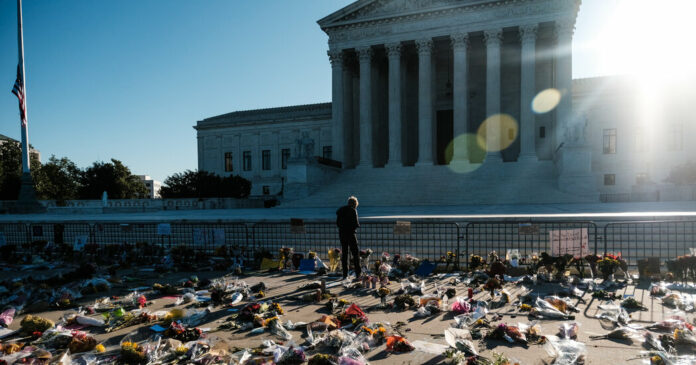 Lisa Murkowski of Alaska became the second Republican senator to say the Senate should not consider a nominee before the presidential election.
Right Now
Joe Biden is linking the Supreme Court vacancy to the coronavirus crisis and protection of Americans with pre-existing conditions, during a speech in Philadelphia.

Democrats link the coming battle over the Supreme Court to health care and the pandemic.
As the battle got underway over how the Supreme Court vacancy left by the death of Justice Ruth Bader Ginsburg should be filled, Democrats argued Sunday that the stakes for the pandemic-battered nation were as much about health care as about the usual hot-button divides over guns and abortion that typically define court confirmations.
Democrats called for the winner of the presidential election to fill the vacancy, and charged that President Trump was rushing the process in order to have a conservative justice seated in time to hear a case seeking to invalidate the Affordable Care Act.
Eliminating the act could wipe out coverage for as many as 23 million Americans. Arguments in the case are set for a week after Election Day.
Republicans sought to defend themselves from charges of hypocrisy for trying to speed through a nominee from President Trump in the final days of a presidential campaign, after Senate Republicans had adamantly refused in 2016 to act on the nomination President Obama made in March of that year, on the grounds that it was too close to the election.
But in another sign of how the pandemic has upended traditional politics, Democrats linked the battle over the Supreme Court to health care.
The Trump administration is supporting a Republican effort to overturn the Affordable Care Act, popularly known as Obamacare, which guarantees coverage for people with pre-existing health conditions who often struggled to get insurance in the past.
"He doesn't want to crush the virus, he wants to crush the Affordable Care Act," Speaker Nancy Pelosi of California said Sunday on ABC's "This Week with George Stephanopoulos."
For months Democrats have sought to make the election a referendum on Mr. Trump's mishandling of the coronavirus pandemic. Now they see the coming battle over the court as a chance to remind voters that the fate of the Affordable Care Act could hang in the balance.
Former Vice President Joseph R. Biden Jr. has called for the choice of a nominee to be left to the winner of the presidential election. Aides to Mr. Biden said that he planned to accuse the president of trying to eliminate protections for pre-existing conditions during a pandemic, while noting that the stakes had been heightened now that the Supreme Court was short one of the liberal justices who had previously voted to keep the law in place. Mr. Biden was expected to discuss the court on Sunday afternoon at an appearance in Philadelphia.
For Democrats, the focus on health care — overlaid by the pandemic — is a rerun of the successful playbook that helped power the party's takeover of the House of Representatives in 2018 and a fidelity to Mr. Biden's steadfast promise to defend Obamacare, a pledge that helped him navigate through the 2020 primary.
Lisa Murkowski becomes the second Republican Senator to oppose taking up the nomination before the election.

A second Republican senator came out against taking up a Supreme Court nomination before the election, potentially complicating Republican efforts to let President Trump swiftly fill the vacancy left by the death of Justice Ruth Bader Ginsburg.
Senator Lisa Murkowski, Republican of Alaska, said in a statement on Sunday that she would not support confirming a Supreme Court nominee before Election Day. Having objected to filling the vacancy left by the death of Justice Antonin Scalia in 2016, she said she believed "the same standard must apply" less than two months before the presidential election.
"For weeks, I have stated that I would not support taking up a potential Supreme Court vacancy this close to the election," Ms. Murkowski said in a statement. "Sadly, what was then a hypothetical is now our reality, but my position has not changed."
"I did not support taking up a nomination eight months before the 2016 election to fill the vacancy created by the passing of Justice Scalia," she said in the statement. "We are now even closer to the 2020 election — less than two months out — and I believe the same standard must apply."
Ms. Murkowski's remarks did not address how she felt about a vote on a justice in the weeks after the November election, when Congress will be in a so-called lame duck session and still able to vote on both legislation and nominations. Senator Susan Collins, Republican of Maine, on Saturday said not only that the Senate should not vote on a nominee before the election, but that the victor in the presidential election on Nov. 3 should fill the vacancy.
Ms. Murkowski's stance against a vote ahead of the November election was striking, particularly given signals from the White House that the administration hopes to nominate someone for the position in the coming days. Ms. Murkowski took care to hold to her position from 2016, but several other Republicans who resisted confirming Merrick B. Garland, President Obama's choice for the Scalia vacancy, are now arguing that the Senate should vote to confirm President Trump's nominee. Several sought Sunday to deflect charges of hypocrisy.
"What we're proposing is completely consistent, completely consistent with the precedent," Senator John Barrasso, Republican of Wyoming and a member of the Senate leadership, claimed speaking on "Meet the Press." Senator Tom Cotton, Republican of Arkansas and one of the names on Mr. Trump's short list for the open seat, said on Fox News Sunday that "the Senate majority is performing our constitutional duty and fulfilling the mandate that voters gave us in 2016 and 2018."
It remains unclear, however, whether Senator Mitch McConnell of Kentucky, the majority leader, will hold a vote on a Supreme Court nominee before November, though on Friday he vowed that the Senate would vote on Mr. Trump's nominee.
With Ms. Murkowski and Ms. Collins both publicly voicing their objections to such a timeline, Mr. McConnell can only afford to lose the support of two more Republican senators. And Mr. McConnell, who is up for re-election, is cognizant of the tough races a number of his members are facing and how such a political fight could further galvanize voters. He had gone so far as to encourage his members to "keep their powder dry" when asked about a vacancy.
There were continuing signs that the looming confirmation fight was motivating Democratic donors: ActBlue, the donation-processing site, announced Sunday that small-dollar donors had contributed $100 million since Friday night.
Ms. Collins is embroiled in the toughest race of her political career, but Ms. Murkowski is not up for re-election until 2022. She has shown few qualms about breaking with her party in the past, even if it means incurring the wrath of the president. On Sunday morning, Mr. Trump again focused on her, derisively tweeting "No thanks!" after the Alaska Chamber invited people to join an upcoming forum featuring Ms. Murkowski.
The next justice "will be a woman," Trump declares, as stage is set for titanic political fight.

President Trump has vowed to fill the vacant Supreme Court created by the death of Justice Ruth Bader Ginsburg "without delay," and said that he would choose a woman. But Justice Ginsburg had said that her "most fervent wish" was that she not be replaced before a new president took office.
"I will be putting forth the nominee next week; it will be a woman," Mr. Trump told supporters at an outdoor rally on Saturday, at an airport in Fayetteville, N.C. "I actually like women much more than I like men."
Mr. Trump's push to move quickly has already received pledges of support from Senator Mitch McConnell of Kentucky, the majority leader, and Senator Lindsey Graham of South Carolina, who directly contradicted remarks he made in 2016 when he said he would oppose any effort to fill a Supreme Court vacancy during a presidential election year.
Democrats have few tools at their disposal to block a simple majority vote on a Supreme Court nomination given the Republican control of the Senate, but Senator Chuck Schumer of New York, the Democratic leader, indicated that they would instead look to retaliate with further institutional changes if Senate control flipped in the November elections.
Mr. Trump has yet to name his choice, but he identified two women as candidates in a telephone conversation on Friday night with Mr. McConnell, according to two people familiar with the call.
Judges Amy Coney Barrett of the U.S. Court of Appeals for the Seventh Circuit in Chicago and Barbara Lagoa of the U.S. Court of Appeals for the 11th Circuit in Atlanta were the women Mr. Trump mentioned. Here is what we know about them.
Judge Amy Coney Barrett, a self-described "faithful Catholic" and a former clerk for the conservative Supreme Court Justice Antonin Scalia, joined the appellate court for the Seventh Circuit in 2017 after being nominated by President Trump.
"She's very highly respected. I can say that," Mr. Trump said on Saturday.
She was confirmed by the Senate along largely partisan lines, after she was grilled at her nomination hearing by Democrats on how her religious beliefs might influence her judicial thinking. The moment made her something of a hero to religious conservatives, and Ms. Barrett told the senators that her religious beliefs would not affect her decisions as an appellate judge.
In that hearing, she would "have no interest in" challenging the Supreme Court precedent in Roe v. Wade, which legalized abortion. But in a 2016 panel discussion, Judge Barrett, who is a favorite of anti-abortion conservatives, said she could envision the scope of abortion rights changing.
A native of New Orleans, Judge Barrett, 48, graduated magna cum laude from Rhodes College in Memphis with a degree in English literature, and was selected by the faculty as the most outstanding graduate in the college's English department.
She collected a string of accolades at Notre Dame Law School, where she served as executive editor of the Notre Dame Law Review before graduating in 1997.
After her law school graduation, she clerked for Judge Laurence H. Silberman of the U.S. Court of Appeals for the D.C. Circuit and for Justice Scalia. In 2002, she joined the Notre Dame faculty as a professor of law.
When Justice Scalia died, Judge Barrett said that "all jobs have been downhill" since her time clerking for him. She admired Justice Scalia's friendship with Justice Ginsburg, formed in spite of their philosophical and political differences, adding, "he had great respect for those whose principles were different from his own."
She shares the originalist views of Justice Scalia, contending that judges should conserve the meaning of the Constitution as it was written. She wrote in a 2013 Texas Law Review article that a justice's duty is to "enforce her best understanding of the Constitution rather than a precedent she thinks is clearly in conflict with it."
Judge Barbara Lagoa
Judge Barbara Lagoa, a Cuban-American, was the first Hispanic woman to serve on the Florida Supreme Court and left on her appointment to the federal appellate court in 2019, after being nominated by President Trump.
Judge Lagoa is from Hialeah, Fla., and attended Florida International University, where she majored in English and graduated cum laude. She then went to law school at Columbia University and became an associate editor of Columbia Law Review.
Judge Lagoa, 52, practiced both civil and criminal law before joining the bench and worked on commercial litigation, including employment discrimination, at law firms in Miami including Greenberg Traurig. She was also a member of the Florida Association for Women Lawyers.
She became a federal prosecutor in 2003, joining the United States Attorney's Office for the Southern District of Florida, where she worked in the civil, major crimes and appellate sections.
She began her judicial career in 2006, when Gov. Jeb Bush appointed her to Florida's Court of Appeals for the Third District. She heard more than 11,000 cases and issued more than 470 written opinions, before she was picked by Gov. Ron DeSantis to join the state's Supreme Court, where she served for 11 months.
"She has been the essence of what a judge should be" Mr. DeSantis said in 2019 when he chose Judge Lagoa for the state's high court. "She understands the rule of law, how important that is to a society."
Earlier this month, she joined a majority opinion ruling that people with felony criminal records in Florida were ineligible to vote unless they had paid all their outstanding court fines and fees. Critics say the decision disenfranchised hundreds of thousands of people.
Lindsey Graham invited people "to use my words against me" if he changed positions. He did, and they are.
"I want you to use my words against me," Senator Lindsey Graham, Republican of South Carolina, said bluntly in 2016. "If there's a Republican president in 2016 and a vacancy occurs in the last year of the first term, you can say Lindsey Graham said let's let the next president, whoever it might be, make that nomination."
His scenario came true: A Republican did win the 2016 presidential election, and a vacancy did just occur in the last year of his first term.
But Mr. Graham, who oversees the Senate Judiciary Committee and would preside over any confirmation hearing, now says he sees no reason to wait for the next president.
And that has led others — including the challenger for Mr. Graham's Senate seat and The Lincoln Project, a super PAC supported by Republicans critical of Mr. Trump — to take Mr. Graham up on his call to use his words against him. The Lincoln Project shared a new ad on Twitter, adding: "Lindsey said he wants us to use his words against him. Ok, done."
The ad includes video of Mr. Graham making his statements.
Mr. Graham, a loyal Trump ally who is locked in a tight race against Jaime Harrison in South Carolina, cited the Democrats' decision to eliminate the 60-vote threshold for most judicial nominees as a reason he had changed his position — though they made that change in 2013, long before he spoke out against a president filling a vacancy in the last year of a term.
He also argued that "Chuck Schumer and his friends in the liberal media conspired to destroy the life of Brett Kavanaugh and hold that Supreme Court seat open."
It was a stark departure from his previous assertions, which began in 2016 and continued into 2018, even after most of the hearings to confirm Brett M. Kavanaugh to the nation's highest court had taken place.
In 2018, days before Justice Kavanaugh was confirmed by the Senate and sworn in, Mr. Graham said again, "If an opening comes in the last year of President Trump's term and the primary process has started, we will wait to the next election."
His opponent, Mr. Harrison, wrote on Twitter on Saturday that Mr. Graham had proved his "word is worthless."
"When people show you who they are, believe them," he said. "Lindsey Graham has shown us that he's running for political power."
The Trump and Biden campaigns both seize on the fight over the future of the court.
Since spring, the White House has been working on a plan to replace Justice Ginsburg if the opportunity arose. Now, President Trump's advisers see a fight over the federal courts as an opportunity to jump-start a stumbling campaign.
Those are just a few of the insights into how the Trump team is approaching the momentous struggle to fill the vacancy left by Justice Ginsburg, Peter Baker and Maggie Haberman write.
Mr. Trump, who rolled out a new list of possible Supreme Court picks last week before there was a vacancy, seized the political initiative early Saturday, issuing a thinly veiled warning to any Republicans thinking about delaying a vote until after the November election.
The president rejected suggestions that he should wait to let the winner of the Nov. 3 contest fill the vacancy, much as Mr. McConnell insisted four years ago in blocking President Barack Obama from filling an election-year vacancy on the court.
"We won and we have an obligation as the winners to pick who we want," Mr. Trump said. "That's not the next president. Hopefully, I'll be the next president. But we're here now, right now, we're here, and we have an obligation to the voters, all of the people, the millions of people who put us here."
For the Biden team, the death of Justice Ginsburg represents a challenge of a different sort.
As Shane Goldmacher, Katie Glueck and Thomas Kaplan report, Joseph R. Biden Jr. has spent months condemning President Trump as a failed steward of the nation's well-being, relentlessly framing the 2020 election as a referendum on the president's handling of the coronavirus pandemic.
Now, confronted with a moment that many believe will upend the 2020 election, the Biden campaign is sticking to what it believes is a winning strategy. Campaign aides said on Saturday they would seek to link the Supreme Court vacancy to the health emergency gripping the country and the future of health care in America.
While confirmation fights have long centered on hot-button cultural divides like guns and especially abortion, the Biden campaign, at least at the start, plans to focus chiefly on protecting the Affordable Care Act and its popular guarantee of coverage for people with pre-existing conditions.
Bill Clinton seems to raise the idea of a Democratic boycott of confirmation hearings.
Former President Bill Clinton appeared to suggest on Sunday that Senate Democrats should refuse to participate in the confirmation hearings for the person President Trump is expected to nominate to the Supreme Court to replace Justice Ruth Bader Ginsburg.
In an interview on "Face the Nation" on CBS, Mr. Clinton stressed the enormous power that a conservative justice replacing a liberal one would have to reshape the law on a wide array of policies, including health insurance coverage and voting rights. With barely six weeks until the presidential election, he said, voters need to understand the potential consequences.
"I think that maybe the Democrats should leave," Mr. Clinton said. "There are no rules on this. There's no law. So we'll just have to see what happens."
He did not elaborate on what he meant when he suggested that Democrats might "leave." But he was highly critical of Mr. Trump and Senate Republican leaders for attempting what he characterized as a power grab.
"You can't be possibly be surprised," he said of Mr. Trump and Senator Mitch McConnell of Kentucky, the majority leader. "They're for whatever maximizes their power."
The meaning in Ruth Bader Ginsburg's collars.
As much as the nickname "The Notorious R.B.G." came to symbolize Justice Ruth Bader Ginsburg's status as a pop culture hero in her later years, the collars she wore with her judicial robes served as both semiology and semaphore.
Vanessa Friedman, the chief fashion critic of The New York Times, writes:
They signaled her positions before she even opened her mouth, and they represented her unique role as the second woman on the country's highest court. Shining like a beacon amid the dark sea of denaturing judicial robes, Justice Ginsburg's collars were unmistakable in photographs and from the court floor.

Though obviously Justice Ginsburg's legacy of jurisprudence is her most important gift to history, her understanding of her own significance as a role model was undeniable. As the rare female law student (and student in the rarefied air at the top of the class) — not to mention the rare female lawyer — she was used to being the only one. She knew that every statement she made, every gesture, every image, would be noted, picked over and parsed. All her choices mattered. So she might as well imbue them with meaning.
Reporting was contributed by Michael Cooper, Emily Cochrane, Reid J. Epstein, Carl Hulse, Annie Karni, Aishvarya Kavi, Adam Liptak, Jeremy W. Peters, Marc Santora, Anna Schaverien and Matt Stevens.