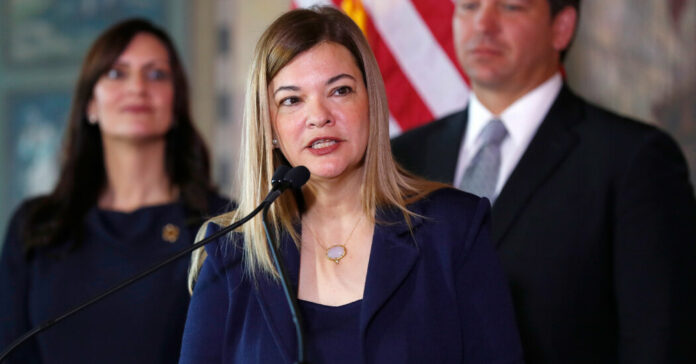 Judge Barbara Lagoa lacks some of the usual credentials of a Supreme Court justice, but her roots in the Cuban-American community could make her an attractive choice for President Trump.

MIAMI — As a young associate in a prestigious Miami law firm, Barbara Lagoa took on an unusual pro bono case, one without a supervising partner and against a formidable adversary: the Clinton administration.
Ms. Lagoa represented a relative of a 5-year-old boy found off the Florida coast after his mother had drowned trying to cross over from Cuba. His name was Elián González.
Federal agents would eventually seize Elián and return him to his father in Cuba, setting off political shock waves that arguably cost former Vice President Al Gore the 2000 presidential election when he lost Florida.
"After six months, countless briefs, a few all-nighters, two oral arguments and one midnight raid by armed commandos, we learned what it was like to lose," Eliot Pedrosa, another lawyer on the team, said at a ceremony last year when Judge Lagoa joined the Florida Supreme Court. The experience of "watching armed federal agents use force to pre-empt process," he said, was "seared into her soul."
That formative episode helped shape Judge Lagoa's career as a federal prosecutor and appellate judge and thrust her into South Florida's political culture, dominated by Cuban-American Republicans.
It is an electoral dynamic that remains powerful two decades later and has helped Judge Lagoa, who now sits on the United States Court of Appeals for the 11th Circuit, emerge as an attractive choice for President Trump as he considers whom he will name to replace Justice Ruth Bader Ginsburg on the Supreme Court.
"She's highly thought of," Mr. Trump, who is scheduled to travel to Miami this week, told reporters on Monday. "I'm getting a lot of phone calls from a lot of people. She has a lot of support. I don't know her, but I hear she's outstanding."
Judge Lagoa, 52, does not have some of the traditional credentials for a justice. But as the U.S.-born daughter of Cuban exiles who has risen to the highest echelons of her profession, she embodies Miami's longstanding version of the American dream.
The Cuban-American community admired her work on Elián's case, taking issue with the federal government's position that the boy's father, Juan Miguel González, was his sole legal guardian and had the right to make the decision to have him returned to Cuba. Also playing a role was a young lawyer named Brett M. Kavanaugh, now a Supreme Court justice himself, who represented the boy's Miami relatives when they needed someone to work on a federal appeal.
Almost all of Judge Lagoa's judicial service has been on a midlevel state appeals court in Miami, where she heard mostly routine cases from 2006 to 2019. Asked to list her most significant opinions, she noted ones on employment discrimination, blood alcohol tests, car insurance, personal jurisdiction, statutes of limitations and arbitration.
In her next two judicial jobs, though, she participated in consequential cases on whether hundreds of thousands of people with felony convictions in Florida were eligible to vote. Lawyers for the former felons have argued that Judge Lagoa should have recused herself the second time around.
The 11th Circuit decision this month to uphold a law enacted by the Florida Legislature that requires former felons to pay court fines and fees before they can register "silenced hundreds of thousands of voters," Desmond Meade, the executive director of the Florida Rights Restoration Coalition, said in a statement.
"That decision demonstrated why we are fighting so hard for people's lives to be placed over politics," he added, "and the desire to put people over politics should be the attitude of anyone who aspires to serve on the highest court in the land."
It is precisely a political calculation about how the president might secure his re-election by ensuring that he carries Florida that could bolster Judge Lagoa's chances. Democrats have been struggling to match Hillary Clinton's popularity among Hispanics in Miami-Dade County, where the election could be won or lost. The optics of Senate Democrats pressing hard against a Latina on national television would seem unlikely to help.
And while Mr. Trump's standing with conservative Cuban-Americans is solid, nominating Judge Lagoa could still appeal emotionally to some voters, said José Félix Díaz, a former state representative and consultant with Ballard Partners, a lobbying firm.
"I think Cuban-American abuelos and abuelas will care," he said. "It speaks to how well Cuban-Americans have assimilated to the United States. Every time there's a new first, it's seismic."
Some on the political right, however, are troubled by the fact that Judge Lagoa does not appear to have a record on any abortion cases.
Leading anti-abortion activists say they would support Judge Lagoa's nomination, but they favor Judge Amy Coney Barrett because of her clearer record on Roe v. Wade, the 1973 decision that established a constitutional right to abortion. They worry a nominee whose jurisprudence on the issue is unknown could jeopardize a decades-long campaign to end the right to abortion, which now appears finally within their reach.
Though she is lesser known in Washington than Judge Barrett, Judge Lagoa has been someone to watch for veteran Florida lawyers for years.
A graduate of Columbia Law School, where she was an editor of The Columbia Law Review, Judge Lagoa worked at various Miami law firms, including Greenberg Traurig, before joining the United States attorney's office for the Southern District of Florida in 2003. Three years later, Gov. Jeb Bush, a Republican, named her to the Third District Court of Appeal.
Judge Lagoa is married to Paul C. Huck Jr., a partner at the Jones Day law firm and a fellow member of the Federalist Society. Mr. Huck served as general counsel to former Gov. Charlie Crist and as deputy attorney general of Florida. The couple has three daughters, including fraternal twins. Judge Lagoa's father-in-law, Paul C. Huck, is a senior federal judge in the Southern District of Florida, appointed by President Bill Clinton.
Last year, in his second day in office, Gov. Ron DeSantis of Florida, a Republican, elevated Judge Lagoa to the state's Supreme Court. He announced his nomination in downtown Miami at the Freedom Tower, a building steeped in exile symbolism, where many Cubans first entered the United States. Speaking in Spanish, Judge Lagoa thanked her parents, noting that her father's unrealized dream in Cuba was to become a lawyer.
Eight months later, Mr. Trump nominated her to the 11th Circuit, where she quickly encountered for a second time the question of the former felons' voting rights. Legal experts were divided over whether Judge Lagoa's failure to disqualify herself ran afoul of ethics rules.
"This is a clear case in which recusal is necessary to preserve public confidence in the fairness and impartiality of the judiciary," said Deborah L. Rhode, an authority on legal ethics at Stanford Law School. "Failing to recuse herself creates both the fact and appearance of impropriety."
Lawrence J. Fox, who teaches legal ethics at Yale Law School, was more tentative. "This situation presents a serious example of the appearance of impropriety, if not impropriety itself," he said.
Bruce A. Green, an expert in legal ethics at Fordham Law School, said that Judge Lagoa had explained her position in ruling on a recusal motion from the former felons.
"Judge Lagoa issued a detailed, well-considered opinion, supported by case law, explaining why she did not have to recuse herself," he said. "The opinion seems pretty convincing, and in any case, it certainly was not a slam dunk for recusal."
The two cases concerned a 2018 ballot measure that amended the state's Constitution to end the disenfranchisement of people convicted of felonies, except for murder and sexual offenses, "upon completion of all terms of sentence, including parole or probation."
The next year, the state's Republican-controlled Legislature enacted a law that defined that phrase to include the payment of fines, restitution, costs and fees.
Judge Lagoa was an active participant when the case on former felons was argued before the Florida Supreme Court on Nov. 6, 2019. But she said she took her recusal obligations seriously.
"The impartiality of judges, and the appearance of impartiality, are key to ensuring public confidence in our courts," she had told the Senate Judiciary Committee in October.
She was confirmed to the 11th Circuit two weeks later.
The Florida Supreme Court issued its decision in January, ruling against the former felons. Judge Lagoa did not participate in the decision.
In the meantime, a separate federal suit challenging the state law under the federal Constitution was moving forward.
In July, though, the full 11th Circuit agreed to hear the case, and lawyers for the former felons asked Judge Lagoa and two other judges to recuse themselves.
Judge Lagoa and another former Florida Supreme Court justice, Judge Robert J. Luck, rejected the motion.
"We did play a role, we were involved in, and we did participate in the advisory opinion to the governor proceeding," they wrote in a 25-page decision. "We sat during oral argument, and we asked questions to the lawyers appearing before that court."
But the state case, they said, "was a separate proceeding involving different persons, different issues and different courts."
This month, by a 6-to-4 vote, with Judges Lagoa and Luck in the majority, the 11th Circuit ruled against the former felons. Had they recused themselves, the appeals court would have deadlocked, a victory for the former felons.
For the people trying to promote her nomination in South Florida, though, Judge Lagoa's life story as the daughter of immigrants matters just as much as her record.
Her friends mention her modest upbringing in the blue-collar city of Hialeah. She rode her bike and roller skated around the neighborhood. Her parents saved up to send her to Catholic school. It was a big deal when she went away to New York for law school.
"In the country my parents fled, the whim of a single individual could mean the difference between food or hunger, liberty or prison, life or death," Judge Lagoa said last year, when she was nominated to the Florida Supreme Court. "Unlike the country my parents fled, we are a nation of laws — not of men."
Patricia Mazzei reported from Miami, and Adam Liptak from Washington. Elizabeth Dias contributed reporting from Washington.