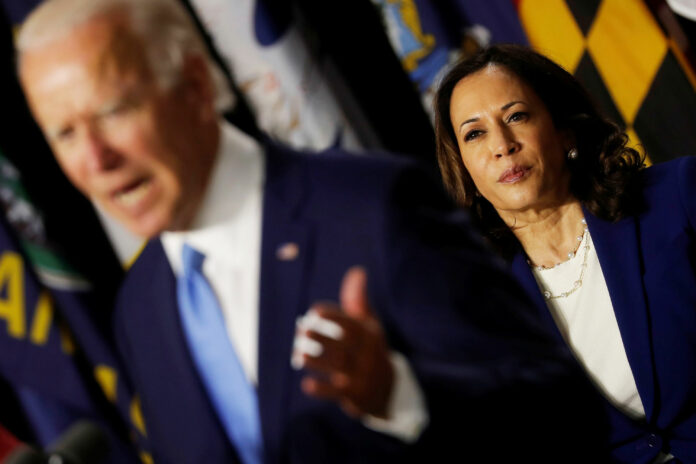 WASHINGTON – Former Vice President Joe Biden and his running mate, Sen. Kamala Harris of California, made their first joint appearance as a complete ticket on Wednesday when they delivered speeches in Wilmington, Del.
"As a child of immigrants, [Harris] knows personally how immigrant families enrich our country, as well as the challenges of what it means to grow up Black and Indian-American in the United States of America," said Biden. "Her story is America's story. It's different from mine in many particulars, but also not so different in the essentials."
"And this morning, all across the nation, little girls woke up, especially little black and brown girls, who so often feel overlooked and undervalued in their communities, but today – today, just maybe, they're seeing themselves for the first time in a new way, as the stuff of presidents and vice presidents," Biden said. 
The event was held in a high school gym without an audience there to cheer the applause lines. Both Biden and Harris wore masks while they were near other people, a grim reminder of how the coronavirus pandemic has upended presidential campaign traditions. Still, the warmth and personal ease between the two candidates was palpable.
"My campaign has always been a family affair, every campaign I've run," said Biden, turning to Harris. "So I've got some news for you, you're all honorary Bidens. And here's the best part: Kamala, you've been an honorary Biden for quite some time."
Speaking after Biden, Harris led with an emotional tribute to Biden's son, the late Beau Biden, who she considered a friend and colleague. "He really was the best of us, and when I would ask him, 'Where did you get that? Where did this come from?' he would always talk about his Dad," she said. 
Democratic presidential nominee and former US Vice President Joe Biden listen to his vice presidential running mate, US Senator Kamala Harris, speak during their first press conference together in Wilmington, Delaware, on August 12, 2020.
Olivier Douliery | AFP | Getty Images
But Harris quickly shifted from the personal to the political and delivered a scathing condemnation of President Donald Trump. 
"The case against Donald Trump and Mike Pence is open and shut," said Harris, a nod to her career as a prosecutor. "Just look where they've gotten us: More than 16 million out of work. Millions of kids who cannot go back to school. … And tragically, more than 165,000 lives that have been cut short, many with loved ones who never got the chance to say goodbye.
"It didn't have to be this way," she said. "Six years ago, in fact, we had a different health crisis. It was called Ebola, and we all remember that pandemic. But you know what happened then? Barack Obama and Joe Biden did their job. Only two people in the United States died. Two. That is what's called leadership.
"Trump is also the reason millions of Americans are now unemployed," said Harris. "He inherited the longest economic expansion in history…and then, like everything else he inherited, he ran it straight into the ground. Because of Trump's failures of leadership, our economy has taken one of the biggest hits out of all the major industrialized nations, with an unemployment rate that has tripled as of today.
"This is what happens when we elect a guy who just isn't up for the job, is our country ends up in tatters," Harris said. 
Announced on Tuesday, Harris' selection as Biden's running mate immediately lent racial diversity, gender parity and generational breadth to his presidential campaign and to a potential Biden White House.
Biden's decision to tap Harris, 55, was widely praised by prominent Democrats and begrudgingly accepted by most Republicans, some of whom even acknowledged publicly that the former California attorney general was a strategically smart pick.
Following Biden's announcement, it quickly became apparent that neither President Donald Trump nor his reelection campaign had settled on a preferred line of attack to use against Harris.
Speaking at a White House news conference, Trump said Harris was "my number one draft pick," paying her an apparent compliment before calling her the "meanest" and "most horrible" and "nasty" a few minutes later. 
Meanwhile, Trump campaign surrogates seesawed between painting Harris as the agent of a "radical agenda" from the far left on one hand, and on the other hand, calling Harris a "phony" for allegedly pretending to be a real progressive, when fact she was a moderate. 
While the Trump campaign was searching for a coherent message Tuesday night, the Biden campaign was raising money hand over fist. 
In the four hours following Biden's announcement, Act Blue, the leading Democratic fundraising platform reported having raised $10.8 million, which was more than $8 million more than the site had raised in the same four hours the day before. 
Speaking on Wednesday, Biden said the previous day had been his campaign's single biggest day for grassroots fundraising, and more than twice as much as any other day in his year long campaign.