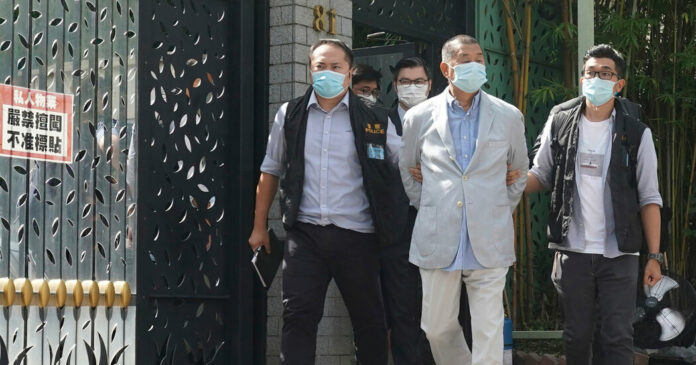 Asia Pacific|Hong Kong Publisher Jimmy Lai Is Arrested Under National Security Law
The pro-democracy figure is the most high-profile figure detained under the sweeping law imposed by Beijing on the semiautonomous territory.

HONG KONG — The Hong Kong police on Monday arrested seven people, including Jimmy Lai, the media tycoon and critic of the Chinese Communist Party, on charges of violating the territory's new national security law, making him the most high-profile target of the sweeping legislation imposed by Beijing.
Mr. Lai's company, Next Digital, publishes Apple Daily, a fiercely pro-democracy newspaper that regularly takes on the Hong Kong government and the Chinese leadership. He is often denounced by Chinese officials, pro-Beijing news outlets in Hong Kong and China's state-run news media.
The newspaper live-streamed video footage of more than 100 police officers turning up in force and raiding Next Digital's headquarters on Monday morning. Officers were seen rifling through papers on a journalist's desks as Mr. Lai was led through his office in handcuffs. Officers cordoned off Mr. Lai's office, and several reporters' cubicles for searches, photos shared on social media showed.
Apple Daily reported that Mr. Lai, 72, was being investigated on charges of collusion with a foreign country or external elements. Mark Simon, a senior executive with Next Digital, said that Mr. Lai had been arrested along with Mr. Lai's two sons. They were being investigated for violations of the company business code. He noted that Mr. Lai's sons were not affiliated with Apple Daily, which suggests that the authorities were investigating Mr. Lai's private investments. A number of senior Next Digital employees were also being questioned at their homes, Mr. Simon said.
The Hong Kong police said in a tweet that so far, seven people had been arrested on suspicion of violating the national security law.
When a reporter asked him about the arrest and the raid, Mr. Lai replied: "What do I think about it? If they have to arrest me, how should I think about it?"
Mr. Lai's arrest has highlighted concerns by activists and opposition figures that the new security law will be used to silence critical voices and curb the city's freewheeling press as part of a broader move against democracy advocates. Last month, Hong Kong barred 12 pro-democracy candidates from an upcoming legislative election and postponed the election by a year, citing the coronavirus pandemic. Many in the opposition camp said the move was most likely made to prevent a defeat of pro-Beijing candidates.
The police said in a statement on Facebook that officers had entered a building in Tseung Kwan O, local of Apple Daily's headquarters, with a search warrant in order to investigate national security offenses. The police cited Article 43 of the security law, which states that the officers could apply for court warrants to enter and search specified locations in order to gather evidence related to security offenses.

The crackdown in Hong Kong has spurred other governments to take action: Australia, Britain, Canada and New Zealand have suspended their extradition treaties with Hong Kong, citing concerns around the new security law. China has retaliated in kind.
Australia, Canada, New Zealand, Britain and the United States said in a joint statement on Sunday that they were "gravely concerned by the Hong Kong government's unjust disqualification of candidates and disproportionate postponement of Legislative Council elections." They also expressed concerns about the security law, which was "eroding the Hong Kong people's fundamental rights and liberties."
On Friday, the Trump administration sanctioned Carrie Lam, Hong Kong's chief executive, and 10 other senior officials over their roles in suppressing dissent.
Mr. Lai was previously arrested in February and accused of participating in an unauthorized protest last year. He faces charges for joining an unauthorized vigil on June 4 to mark the anniversary of the 1989 Tiananmen crackdown by Beijing.
His arrest on Monday is his first under the new security law, which gives the authorities broad powers to target what they view as secession, subversion, terrorist activities and collusion with foreign powers.
The police have also arrested about 15 people under the security law, including several who participated in protests and four activists accused of posting messages online. One person, a man who collided with the police while riding a motorcycle with a flag that read, "Liberate Hong Kong, Revolution of Our Times," was charged with inciting secession and terrorism.
It was not immediately clear exactly what specific action by Mr. Lai led to his arrest.
Mr. Lai traveled to Washington last year and met with Vice President Mike Pence, Secretary of State Mike Pompeo and Speaker Nancy Pelosi of California, among others. The national security law stipulates, however, that it can be applied only to activities that occur after it went into force, at the end of June.
Mr. Lai previously said he believed the new law would be used against him. Soon after he first wrote about the new law, the Communist Party-owned Global Times newspaper cited mainland experts who said his tweets had provided "evidence of subversion."
"I have always thought I might one day be sent to jail for my publications or for my calls for democracy in Hong Kong," he wrote in an Op-Ed article for The New York Times. "But for a few tweets, and because they are said to threaten the national security of mighty China? That's a new one, even for me."