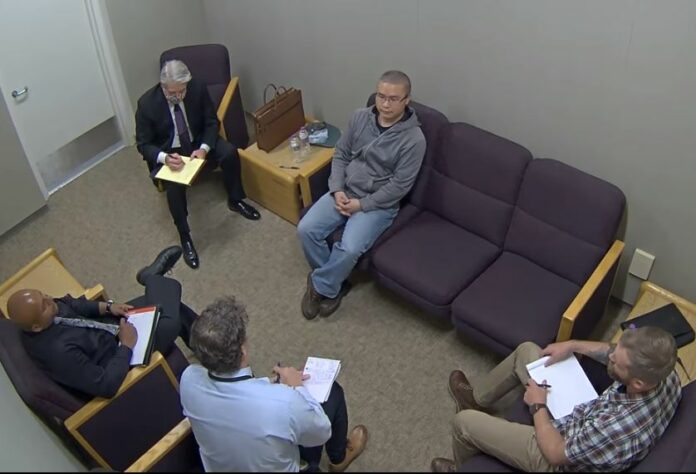 Video released Friday shows one of the ex-Minneapolis Police Department officers charged in George Floyd's death telling investigators his job was to watch the "hostile" crowd — not the deadly arrest.
The one-hour, 40-minute voluntary interview of former MPD officer Tou Thao was recorded eight days after the May 25 death of Floyd. As the Star Tribune noted, Thao expressed little emotion in his descriptions of the actions of he and three officers on the scene.
He repeatedly expressed his concerns over the "loud and hostile" nearby bystanders who witnessed the event, but only referred to Floyd's well-being once to describe him as appearing to be on drugs and resisting arrest.
Thao described how he kept angry bystanders at bay as fellow former officers J. Alexander Kueng, Thomas Lane and Derek Chauvin restrained Floyd's back and legs over a call about his alleged use of a counterfeit $20 bill.
Get your unlimited Newsweek trial >
"As the crowd is starting to grow and become loud and hostile toward us, I decided to forgo [monitoring] traffic and put myself in between the crowd and the officers … and just spend the majority of my attention looking at the crowd — make sure they don't charge us or bull rush us as the officers on the ground are defenseless," Thao told investigators with the Minnesota Bureau of Criminal Apprehension [BCA].
Thao said his officer colleagues grew visibly tired during the arrest and he never mentioned Chauvin's specific restraint methods, that Floyd said he could not breathe or that several bystanders urged the men to see why he had eventually stopped moving altogether.
Get your unlimited Newsweek trial >
"They're trying to get control of his body," Thao said. "I could tell the officers on the ground were getting tired. Everyone's breathing hard …" He added that Floyd resisted getting into the squad car and put himself out onto the street.
Thao said the street corner in front of the Cup Foods where the arrest took place was a gang hangout that is "especially hostile" to Minneapolis police. Thao is heard telling investigators he first realized the depth of the situation when fire trucks and ambulances arrived at the scene to provide medical attention. He said that Kueng, who was only on his third day on the job, also didn't appear to understand the seriousness of the situation.
"I don't think he realized the gravity of the situation — potential situation," Thao said, before addressing questions about why there was such urgency to arrest Floyd for such a minor crime. "First, um, this wasn't our call. We were just backup officers, so we don't — I don't have the back information as far as what happened prior to us arriving."
As the Star Tribune reported, it is one hour into the video before Thao discussed what Floyd was saying while he was restrained. "He was saying that he couldn't breathe, but then he was obviously yelling and talking."
Thao acknowledged that Chauvin was "struggling with the guy," and that he'd "never used" the restraint technique that held Floyd's shoulder, neck and head into the ground.
The ex-officer was then asked what he felt when he learned Floyd had died as a result of the arrest and aggressive restraint methods.
"I don't want anyone to die," Thao said. "It was kind of a somber moment, especially for me. My heart kind of sank." He said he did not check on Floyd's health or vitals because his job was purely to enforce "scene security."
Newsweek reached out to the BCA for any additional remarks about the interview Saturday afternoon.