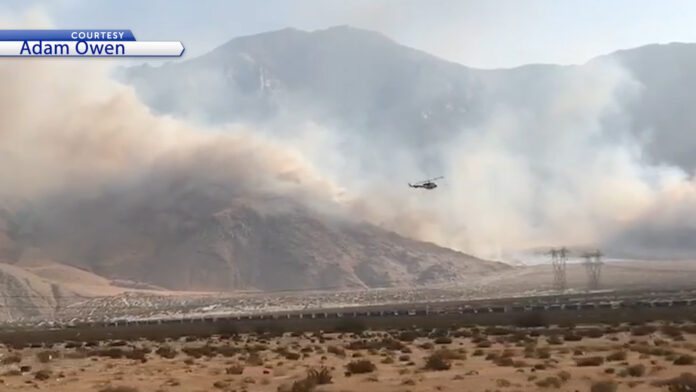 A vehicle fire that spread to vegetation at the base of a hill on Snow Creek Road in Palm Springs has now burned 1,200 acres.

An evacuation order has been issued for the entire Snowcreek area. north of Cottonwood, south east of Snowcreek, west of Falls Creek.
Evacuation warnings were issued for the areas South of Overture Drive. North of Overture Drive. East of Clearwater Way. West of Highway 111 shortly before 6:30 p.m.
ALERT RIVCO— #SnowFire (unincorporated Palm Springs/Cabazon area) Evacuation Warning issued for the area South of and North of Overture, East of Clearwater and West of HIghway 111. Follow @CALFIRERRU for updates. pic.twitter.com/NYmVhKrIH1

— RivCoReady (@RivCoReady) September 18, 2020
Captain Fernando Herrera tells News Channel 3 that the wind-driven flames are a challenge for firefighters who are already stretched thin.
Herrera said there are 200-300 homes that could be threatened.
According to the California Highway Patrol and CalFire, a vehicle caught on fire on Snow Creek Road at around 2:36 p.m. It's unclear what started the car fire, but the flames were spread quickly due to the wind and dry conditions.
AIR QUALITY ADVISORY UPDATE: an additional #SmokeAdvisory has been issued for the #SnowFire burning between #Cabazon and #Whitewater: https://t.co/Y158OoPtBX #PalmSprings pic.twitter.com/JscuMQYXkv

— South Coast AQMD (@SouthCoastAQMD) September 18, 2020
A spokesperson for Cal Fire Riverside confirmed at 3 p.m. that the fire was half an acre and is burning at a moderate rate of spread.
By 3:50 p.m., the fire grew to 100 acres and is burning at a critical rate of spread. By 4 p.m., officials confirmed the fire was at 200 acres.
By 5 p.m. the fire was at 500 acres with 0 percent containment. The fire grew to 1,200 acres by 7:30 p.m.
The Palm Springs Fire Department has been called to assist. An aircraft is also on order, according to Cal Fire. A total of 215 firefighters are at the scene with 33 fire engines, 4 air tankers, 2 helicopters, and 7 fire crews.
Other agencies assisting in the area include the Bureau of Land Management, Morongo Fire Department, and the United States Forest Service – San Bernardino.
One eyewitness to the fire posted on Twitter, "Incredibly rapid spread – just arrived for the weekend and already had to evacuate!" as he shared images of the smoke and flames in the area.
News Channel 3's Dani Romero is at the scene gathering more information. She will have the latest updates in a live report tonight at 10 & 11 p.m.