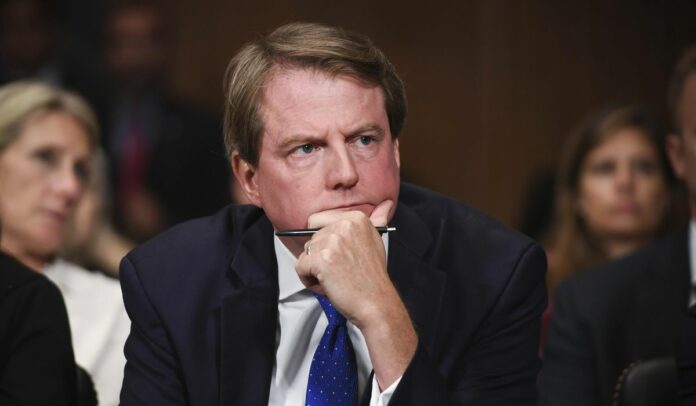 The full federal appeals court in Washington, D.C., ruled Friday that House Democrats have the authority to subpoena former White House Counsel Don McGahn.
In a 7-2 ruling, the court reasoned the House of Representatives would suffer a concrete injury in not conducting its oversight duties if the chamber cannot exercise its subpoena power.
"The Constitution charges Congress with certain responsibilities, including to legislate, to conduct oversight of the federal government, and, when necessary, to impeach and remove a president," wrote Judge Judith Rogers, a Clinton appointee who authored the majority opinion.
The court said Congress' request for Mr. McGahn to testify in 2019 ahead of its impeachment hearings fell under the Constitution's power to impeach, which is delegated to lawmakers.
House Democrats moved to have the president's former White House counsel testify following the release of former special counsel Robert Mueller's report about the feds probe into election interference during the 2016 election and alleged conspiracy between the Trump campaign and Russian officials. Though the report detailed election interference by foreigners, it did not incriminate Mr. Trump.
Judge Rogers noted the special counsel's report suggested Congress has the ability to impeach the president if lawmakers believed a crime had been committed, reasoning they would need to be able to subpoena Mr. McGahn to inquire about potential criminal activity.
Despite not having Mr. McGahn's testimony, the House did impeach the president last year, but he was acquitted earlier this year by the Senate.
The ruling could revive impeachment inquiries by House Democrats into Mr. Trump.
The president, though, could also appeal the ruling to the high court.
Liberals cheered the federal court's ruling as a victory for government oversight and transparency.
Elizabeth Wyda, president of the Constitutional Accountability Center, said there are still issues in the case that need to be worked out, and she urged the lower court to move quickly as the November election is fast approaching.
"Given that this session of Congress is rapidly coming to a close, time is of the essence," she said.