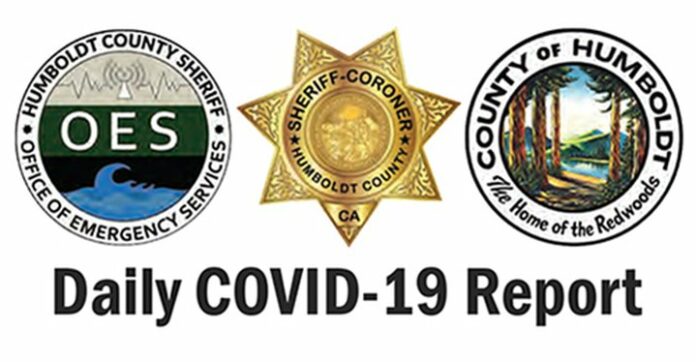 Press release from the Humboldt County Joint Information Center:
One new case of COVID-19 was reported today, bringing to 490 the total number of county residents who have tested positive for the virus. 

On Tuesday, the Health Care System Capacity alert level, one of three categories that indicate the county's capacity to respond to and manage an increase in COVID-19 cases, moved from green to yellow, due to a recent increase in COVID-19-related hospitalizations. All three categories in the overall Alert Level Assessment Tool now stand at level 2, or yellow.

There have been 30 hospitalizations since the pandemic began, seven of those in September alone.  Over the past week local hospitals reached an inpatient census of five COVID-19 patients, with four patients currently hospitalized in Humboldt County. Three individuals requiring inpatient care are under 60 years of age.

 Humboldt County Health Officer Dr. Teresa Frankovich continues to urge area residents to use all preventive measures at hand to continue limiting transmission of this virus. 

"Health Care System Capacity describes trends in hospitalized COVID-19 patients, infections in health care workers and the availability of critical medical resources," Dr. Frankovich said. "While our local health care system currently has good capacity to respond, it is important for us to remember that even when our overall case rates are lower than those in many areas of the state, we can still see an increase in hospitalizations. The move from green to yellow in our alert system signals the importance of the health care system in our COVID-19 response efforts."

 Visit humboldtgov.org/dashboard to view the county's entire Alert Level Assessment tool. 

 For the most recent COVID-19 information, visit cdc.gov or cdph.ca.gov. Local information is available at humboldtgov.org or during business hours by contacting [email protected] or calling 707-441-5000.

 Humboldt County COVID-19 Data Dashboard: humboldtgov.org/dashboard,
Follow us on Facebook: @HumCoCOVID19,
Instagram: @HumCoCOVID19,
Twitter: @HumCoCOVID19, and
Humboldt Health Alert: humboldtgov.org/HumboldtHealthAlert
 ###
= historic data. All data from the Humboldt County Joint Information Center.