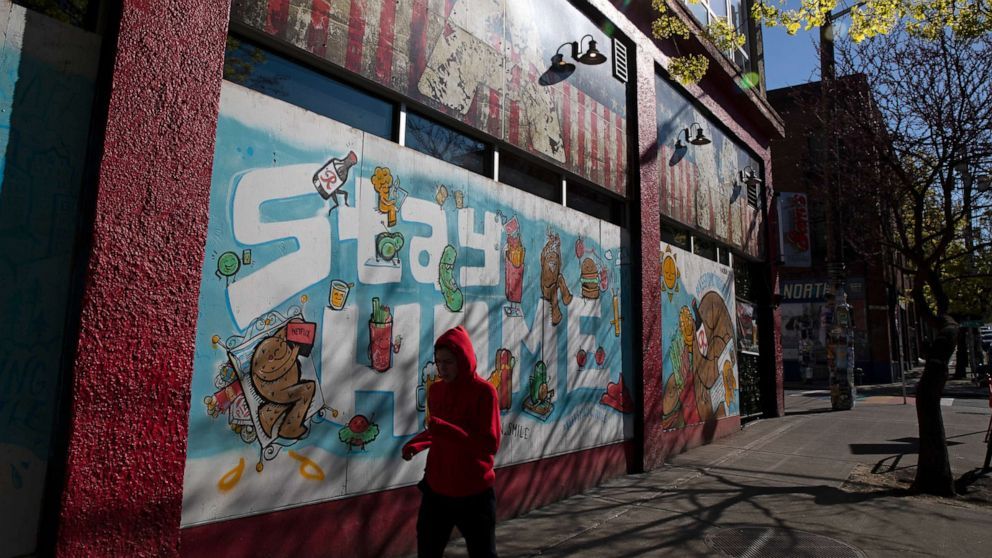 A global pandemic of the novel coronavirus has infected more than 2 million people worldwide.
More than 136,000 people across the globe have died from COVID-19, the disease caused by the new respiratory virus, according to data compiled by the Center for Systems Science and Engineering at Johns Hopkins University. The actual numbers are believed to be much higher due to testing shortages, many unreported cases and suspicions that some governments are hiding the scope of their nations' outbreaks.
Since the first cases were detected in China in December, the United States has become the worst-affected nation, with more than 638,000 diagnosed cases and at least 30,844 deaths.
The number of cases in New York state alone — over 214,000 — is higher than in any single country outside the U.S.
Researchers say social distancing may be necessary into 2022 Bill Gates warns freezing funding for WHO 'is as dangerous as it sounds' Americans should prepare for 'another battle' with virus, CDC director says Cuomo announces executive order requiring face coverings
Here's how the news developed Wednesday. All times Eastern.
There have now been 30,844 deaths in the U.S. from COVID-19.
That figure now includes the new way that New York City is tallying deaths, with 6,840 confirmed deaths — those who tested positive for COVID-19 — and 4,059 probable deaths — people who didn't have a positive COVID-19 test, but their death certificate lists COVID-19 or an equivalent as the cause of death.
The jump in the death count in New York City, and nationally, aren't all people who have died in the past 24 hours, but are just now being counted.
Gov. Jay Inslee announced that Washington state's shelter-in-place order has been extended to May 4.
Washington, the first state to record a coronavirus case in the U.S., currently has 10,694 confirmed cases and 541 deaths, according to the state's health department.
Inslee warned that more testing will be needed.
"Testing is the biggest challenge, and will be the biggest hurdle," he said at a press conference.
Discussing the timetable for a full reopening of his state, the governor told the ABC News "Powerhouse Politics" podcast that it will be "later than we would like."
"It's not the right time today or even two weeks from now, because the modeling has shown clearly that the curve will start to go up again if we were to full scale remove our social distancing measures right now that are having a beneficial impact," Inslee said.
Vice President Mike Pence said at a briefing that roughly 3.3 million Americans have been tested for COVID-19.
Roughly 39.4 million N95 masks, 40 million gloves, 57 million surgical masks and 10.2 million gowns have been distributed, said Pence.
"There will be 6.5 million masks that go out before the end of this week and an additional 20 million before April 20," Pence said. "Then we'll be adding 6.5 million for each and every week."
World Wrestling Entertainment announced it would furlough wresters and other employees to save $4 million in monthly costs.
Several of the affected wrestlers took to social media to announce their furloughs, including Levis Valenzuela Jr., aka No Way Jose, Lionel Gerard Green, aka Lio Rush, and Kurt Angle.
"I wanted 2 say thank you to the WWE for the time I spent there.I made many new friends and had the opportunity to work with so many talented people," Angle tweeted.
The company was deemed an essential service in Florida by Gov. Ron DeSantis Tuesday and will tape events without crowds from its training facility in Orlando.

WWE said that it has half a billion in cash and debt capacity to operate its facilities in the coming months and would provide more details about those plans on Thursday.
On Monday, the XFL, owned by WWE CEO Vince McMahon, filed for Chapter 11 bankruptcy.
The filing listed the football league with assets and liabilities each in the range of $10 million to $50 million, according to ESPN.
6: 01 p.m. Louisana schools to remain closed
Louisiana Gov. John Bel Edwards announced that he signed a proclamation ordering K-12 schools in the state to remain closed until the end of the academic year.
"It's unfortunate that we had to do this, but it's really important that we promote public health," Edwards said at a news conference.

More guidance will be given to districts and educators to help ensure students get what they need while continuing social distancing efforts, the governor said.
"I want to be very clear about something — this is not the end of learning," he said.
5: 53 p.m.: More than 900 NYC hospital workers have contracted virus
New York City Health and Hospitals Corporation (HHC), which runs 11 public hospitals including Elmhurst and Bellevue, said 924 of its employees have contracted COVID-19.
On Tuesday 3,000 staff members — about 8% of its workforce — called out sick, according to administrators.
"These are understandably frightening times, and we are all pulling together so that we can save more New Yorkers," HHC said in a statement.
5 p.m.: DC suburb emerges as possible new epicenter
Maryland's governor on Wednesday issued an executive order requiring face coverings in establishments and on public transit.
As Maryland's death toll rises, Prince George's County, Maryland — a D.C. suburb — may be emerging as a new epicenter.

Prince George's County is home to 900,000 residents, the majority of whom are African American, The Washington Post reported.
The county has reported 2,516 cases, 65 deaths and 11 "probable" deaths. Overwhelmed hospitals are sending some of the sick to facilities outside of the county, the Post said.
Prince George's County's death toll is nearing the number of dead in the nation's capital. The District of Columbia has reported 72 fatalities and 5 probable fatalities.
Tune into ABC at 1 p.m. ET and ABC News Live at 4 p.m. ET every weekday for special coverage of the novel coronavirus with the full ABC News team, including the latest news, context and analysis.
3: 45 p.m.: 47 residents dead at Soldiers' Home in Holyoke, Massachusetts
Three more veterans have died in the last 24 hours at the Soldiers' Home in Holyoke, Massachusetts, bringing the facility's death toll to 47.

Of those residents, 38 tested positive for the coronavirus, 8 tested negative and 1 test result is not known, the state's Office of Health and Human Services said Wednesday.
The Soldiers' Home, a state-run health care facility for veterans, is now the center of two investigations after a growing number of deaths and accusations from the staff that management did not properly protect those inside.
Faces of the coronavirus pandemic: Remembering those who died
The U.S. Attorney's Office for the District of Massachusetts and the Department of Justice's Civil Rights Division are conducting a joint investigation to determine whether the facility "violated the rights of residents by failing to provide them adequate medical care generally, and during the coronavirus pandemic," according to a statement from the agencies.
Gov. Charlie Baker has also called for an independent investigation by attorney Mark W. Pearlstein, which will focus on "the events inside the facility that led to" the deaths, and "on management and organizational oversight of the COVID-19 response."
SLIDESHOW: Coronavirus outbreak sparks global health emergency
The center said Wednesday that they're "in communication with the VA Health Care System and the Holyoke Medical Center to offer potential alternative locations for short-term care for veteran residents," but "the majority of families declined transfers to VA locations."
"Strong staff-to-resident ratios have been achieved thanks in large part to the presence of the Massachusetts National Guard trained medical and operational staff," the center added.
2: 25 p.m.: Louisiana sees lowest increase in cases in weeks
Hard-hit Louisiana on Wednesday saw its lowest daily increase of cases in weeks. The number of positive people went up just 2%, now at 21,951, according to the state's Department of Health.


Louisiana's death toll has climbed to 1,103.
Louisiana is among the states where the coronavirus is disproportionately affecting African American communities.
As of Tuesday, African Americans made up 59.29% of Louisiana's COVID-19 deaths, state officials said. African Americans account for 32% of the population of the state, according to census data.
1: 20 p.m.: Cuomo announces executive order requiring face coverings
In New York — the state with by far the highest death toll from the coronavirus — the curve is flattening, with intubations and total hospitalizations down, Gov. Andrew Cuomo said Wednesday.

But about 2,000 people are still being diagnosed each day and the state is still "in the woods," Cuomo said.
In New York, 752 lives were lost on Wednesday: 707 in hospitals and 45 were in nursing homes, the governor said.

Cuomo said Wednesday he's issuing an executive order so everyone in public must have a mask or mouth/nose covering on when in a situation where they aren't social distancing.

"If you're going to get on public transit … you're going to walk in a neighborhood that is busy … you're going to pass other people on the sidewalk, you're not going to be able to maintain social distancing, you must wear a mask," he said.
"Local governments should start to enforce it," he said, adding that for now there will be no civil penalty but "If people don't follow it, we could do a civil penalty."
Cuomo said large-scale testing is key to reopening the state. But the capacity to "test, trace and isolate" "does not now exist," he said.
No evidence yet for effective COVID-19 treatments, review shows
"You need swabs. You need vials. And you need all of these things at a capacity that does not now exist. Where do you do the testing?" Cuomo said. "We have been doing the testing in hospitals. Frankly, that's not a great place to do testing. You don't want people walking in to a hospital emergency room who may be positive for COVID-19."
"We have been very aggressive here. But in all this time we have only done 500,000 tests," Cuomo said, stressing the need for federal support.
"No one is to blame on testing," he added.
Timeline: Government's evolving guidance on when Americans can return to work
Cuomo also addressed the future "phased reopening of the economy — as educated by testing/tracing."
Reopening will be based on how essential the business or product is, and what its risk is of spreading the infection, Cuomo said.
12: 50 p.m.: DC extends shutdown to May 15
Washington, D.C. Mayor Muriel Bowser announced Wednesday that she's extending the stay-at-home order through May 15th.
That also applies to closure of the city's schools and nonessential businesses, as well as the ban on gatherings of more than 10 people.

The D.C. shutdown was initially set to expire on April 24.
In the nation's capital, 2,197 people have been diagnosed with coronavirus and 72 people have died.

"We know that we will need until at least May 15 to continue flattening the curve to help protect African Americans who we know are disproportionately suffering from some of the underlying conditions that may be so dangerous," she said.
'Torn up': African American family mourns 4 loved ones as COVID-19 racial disparities exposed
The new orders will also add additional protocols to protect the city's most vulnerable residents, including those in correctional facilities, nursing and group homes, and homeless shelters, the mayor said.
The order also extends mask requirements to hotel workers and those using taxis and ride-shares.
11: 35 a.m.: NYC mayor announces investment to address food insecurity
In hard-hit New York City, Mayor Bill de Blasio says grocery stores should require customers to wear face coverings while shopping.
"Every store has the right to put up that guidance and make it a requirement for entry into the store," the mayor said, calling a face-covering requirement in grocery stores no different than "no shirt, no shoes, no service" signs.

De Blasio said he would talk about loosening restrictions in New York City when there's a steady drop in three key COVID-19 indicators for 10 to 14 days: those admitted to hospitals, those in intensive care units, and the percentage of people tested who are positive.
The mayor said the number of patients admitted to hospitals and the number of people in ICUs have both slightly increased, while the percentage of people tested who are positive has made a small improvement.
De Blasio on Wednesday also announced a $170 million investment to make sure no New Yorker goes hungry.
How to help food banks on the front lines of the COVID-19 crisis
Before the pandemic, 1.2 million New Yorkers were food insecure, including 1 in 5 children, the mayor said. Now, an estimated half-million New Yorkers have lost or will lose their jobs in the immediate future, he said.
Since March 16, 4.5 million meals have been served to people in New York City, de Blasio said.

Ten million meals will be served in April alone, with the ability to grow, he said.
10: 20 a.m.: TSA screens less than 90,000 passengers for 1st time during outbreak
Domestic airline travel reached a new low Tuesday when the TSA screened less than 90,000 passengers for the first time during the COVID-19 outbreak.
The TSA screened 87,534 travelers at checkpoints nationwide on Tuesday compared to 2,208,688 on the same weekday last year — around a 96% decrease.

The TSA says 403 of its employees have tested positive for COVID-19. Out of those, three have died and 45 employees have recovered.
9: 37 a.m.: China says Trump will harm global fight against pandemic by pulling WHO funds
China urged the U.S. not to halt its funding to the World Health Organization on Wednesday, saying it would undermine the global fight against the coronavirus pandemic.
During Wednesday's press briefing in Beijing, Chinese Foreign Ministry spokesman Zhao Lijian said President Donald Trump's decision to cut the U.S. contributions to the WHO would impact all countries across the globe, especially the more vulnerable ones.

Furthermore, the move "weakens the WHO's capabilities and harms international cooperation," he said.
"At present, the global pandemic situation is grim and is at a critical moment," Zhao told reporters. "We urge the U.S. to fulfill its responsibilities and obligations, and support WHO to lead the international combat against the pandemic."
8: 58 a.m.: Tour de France delayed till late August
Cycling's biggest race, the Tour de France, has been postponed until late August due to the coronavirus pandemic.
The International Cycling Union announced the decision Wednesday, saying the prestigious race will now run from Aug. 29 to Sept. 20. The Tour de France was originally slated to kick off in Nice on June 27.
"Holding this event in the best conditions possible is judged essential given its central place in cycling's economy and its exposure, in particular for the teams that benefit on this occasion from unparalleled visibility," the International Cycling Union said in a statement.

France is among the worst-affected countries in the pandemic, with more than 131,000 diagnosed cases of COVID-19 and over 15,000 deaths, according to a count kept by Johns Hopkins University.
French President Emmanuel Macron has extended a lockdown for the country till May 11.
Addressing the nation Monday night, Macron said he sees "hopeful signs" since imposing the nationwide lockdown on March 17 in an effort to stem the spread of the novel coronavirus. He said schools will reopen "progressively," starting from May 11. However, cafes, restaurants, cinemas, concert halls, museums and hotels will remain closed and large gatherings won't be allowed until mid-July.
8: 23 a.m.: US Forces Japan declare public health emergency for all bases
The commander of the United States Forces Japan on Wednesday declared a public health emergency for all bases in Japan as the country sees a surge in novel coronavirus infections.
U.S. Forces Japan, a subset of the military's Indo-Pacific Command, had previously declared an emergency only for the county's Kanto Plain, which includes Tokyo.

The newest declaration, which will remain in effect through May 15, gives commanders the authority to enforce compliance of health protection measures on those who live and work on all U.S. Army, Navy, Air Force and Marine installations and facilities located in Japan. The order applies to 50,000 military personnel as well as tens of thousands of their family members and civilian contractors.
Last month, an active duty member of the U.S. Forces Japan tested positive for COVID-19.
What to know about coronavirus:
How it started and how to protect yourself: Coronavirus explained
What to do if you have symptoms: Coronavirus symptoms
Tracking the spread in the U.S. and worldwide: Coronavirus map
7: 15 a.m.: Americans should prepare for 'another battle' with virus, CDC director says
Dr. Robert Redfield, director of the U.S. Centers for Disease Control and Prevention, warned Wednesday that Americans should be prepared for a second wave of novel coronavirus infections in the winter, even as the epidemic appears to have hit its peak in parts of the country.
"I think we have to assume this is like other respiratory viruses and there will be a seasonality to it," Redfield told ABC News chief anchor George Stephanopoulos, in an interview on "Good Morning America."
"Until we see it, we don't know for certain," he added. "But i think it's critical that we plan this virus is likely to follow a seasonality pattern similar to flu, and we're going to have another battle with it up front and aggressively next winter."

It's important the country takes the time now to improve its testing capacity and expand public health capacity so that health workers can detect cases early, conduct contact tracing and isolate potentially infected individuals, according to Redfield.
"I call it block and tackle," Redfield said. "The outbreak this year got ahead of that, so we went into full mitigation and we lost the ability to use critical public health tools. We are working hard to augment them now so that, as we get into the next season, we'll be able to stay in high containment mode while we complement that with some continued mitigation strategies."
Redfield praised members of the public for heeding stay-at-home orders and social distancing measures.
"When we did our original models looking at this outbreak, we were looking at, you know, up to 2.2 million people that might have died before the fall," he said. "And when you see, even though 26,000 is still an enormous loss of human life, it really is a tribute to the mitigation that the American public did."
"It's really a testament to the sacrifice the American public has taken and the leadership that we've had in a number of these states to give that example," he added.

Redfield said the CDC and the White House coronavirus task force are "aggressively working through the best options as to help assist the states as they begin to reopen our country one state at a time." The process is ongoing and it will be a state-by-state decision, according to Redfield.
"I think we will see some states that the governors feel that are ready and we're poised to assist them with that reopening," he added. "And I think you'll see that the plan in terms of how that will happen will be finalized by the White House task force in the days ahead."
When asked about President Donald Trump's decision to halt U.S. funding to the World Health Organization and whether he thinks the agency failed in its outbreak response, Redfield was reluctant to criticize the WHO and instead said, "I think I'd like to do the postmortem on this outbreak once we get through it together."
"The CDC and WHO has had a long history of working together in multiple outbreaks throughout the world, as we continue to do in this one, and so we've had a very productive public health relationship," he added. "We continue to have that."
6: 15 a.m.: Russia reports its largest single-day increase in new cases
Russia on Wednesday reported a record number of new cases of the novel coronavirus.
The Russian government registered 3,388 new cases in the past 24 hours — the country's biggest single-day jump yet.

There are now 24,490 diagnosed cases of COVID-19 across Russia, and at least 198 people have died from the disease.
Moscow, with a population of more than 12 million people, is by far the hardest-hit city in the country.
5: 42 a.m.: Bill Gates warns freezing funding for WHO 'is as dangerous as it sounds'
Microsoft founder and billionaire philanthropist Bill Gates took to Twitter early Wednesday to denounce President Trump's decision to freeze American funding to the World Health Organization.
The United States is, by far, the single largest financial contributor to the WHO, and Gates said the United Nations' health agency is needed "now more than ever."
"Halting funding for the World Health Organization during a world health crisis is as dangerous as it sounds," Gates tweeted. "Their work is slowing the spread of COVID-19 and if that work is stopped no other organization can replace them."
Halting funding for the World Health Organization during a world health crisis is as dangerous as it sounds. Their work is slowing the spread of COVID-19 and if that work is stopped no other organization can replace them. The world needs @WHO now more than ever.

— Bill Gates (@BillGates) April 15, 2020
Trump announced Tuesday that he would cut U.S. contributions to the WHO, pending a review into its handling of the coronavirus pandemic.
The president claimed the WHO mismanaged the outbreak response and specifically laid blame on the organization's lack of support for his ban on travel from China when the outbreak began.
"They were very much opposed to what we did," Trump said during Tuesday's daily briefing.

The president said he will have conversations with other health officials around the world about where the funds earmarked for the WHO would go. He did not rule out restoring the money to the organization.
Trump's announcement is likely to lead to a battle with Congress, which controls funding for the Geneva-based international body.
The WHO started sounding the alarm over the novel coronavirus outbreak in China in mid-January and then designated it a global health emergency on Jan. 30. On March 11, the organization declared the outbreak a pandemic after the virus had spread to every continent except Antarctica.
3: 30 a.m.: Social distancing measures may be necessary into 2022, researchers say
People around the world may need to continue practicing some level of social distancing through 2022 to contain the novel coronavirus pandemic in the absence of an effective treatment or vaccine, or unless hospital capacity is increased, according to a new study.
In the study published Tuesday in the journal Science, researchers from the Harvard T.H. Chan School of Public Health warned that their projections indicate there would be a large resurgence of infection if social distancing measures are lifted all at once, potentially delaying the epidemic's peak and exacerbating the load on critical care resources.

The researchers used data from the United States to model transmission of other coronaviruses in temperate regions and to project possible scenarios of COVID-19 infection through the year 2025.
"Less effective one-time distancing efforts may result in a prolonged single-peak epidemic, with the extent of strain on the healthcare system and the required duration of distancing depending on the effectiveness," the study's authors wrote. "Intermittent distancing may be required into 2022 unless critical care capacity is increased substantially or a treatment or vaccine becomes available."
Effective treatments and vaccines may take months to years to develop and test, leaving non-pharmaceutical interventions as the only immediate means of curbing the spread of infection.

If immunity to COVID-19 is not permanent, the virus will likely enter into regular circulation, much like influenza, possibly in annual, biennial or sporadic patterns over the next five years, according to the study. In one model, a 20-week period of social distancing was followed by a resurgence peak that was nearly as great as that of an uncontrolled epidemic.
"The social distancing was so effective that virtually no population immunity was built," the authors wrote. "The greatest reductions in peak size come from social distancing intensity and duration that divide cases approximately equally between peaks."
The researchers acknowledged that "prolonged distancing, even if intermittent, is likely to have profoundly negative economic, social, and educational consequences."
"Our goal in modeling such policies is not to endorse them but to identify likely trajectories of the epidemic under alternative approaches," the authors wrote. "We do not take a position on the advisability of these scenarios given the economic burden that sustained distancing may impose, but we note the potentially catastrophic burden on the healthcare system that is predicted if distancing is poorly effective and/or not sustained for long enough."
ABC News' Dee Carden, Jeff Costello, Will Gretsky, Ibtissem Guenfoud, Mina Kaji, Aaron Katersky, Alina Lobzina, Amanda Maile, Kelly McCarthy, Sarah Shales, Terrance Smith, Ella Torres, J Gabriel Ware and Karson Yiu contributed to this report.
US coronavirus deaths top 30,000; Washington extends stay-at-home order originally appeared on abcnews.go.com