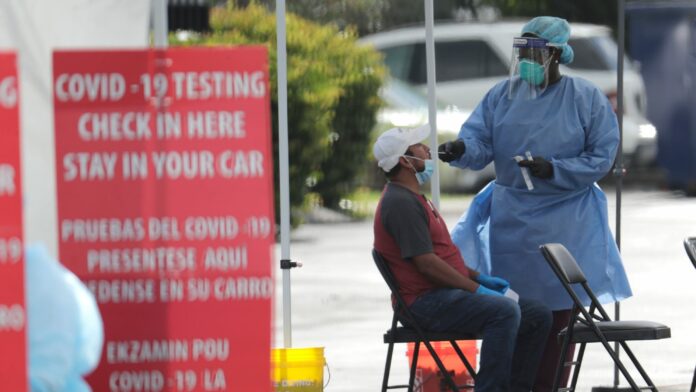 CLOSE


Approving a vaccine in the U.S. usually takes years, but COVID-19 vaccines are moving through in record time. What does that mean?
USA TODAY
The global death toll from COVID-19 was on the brink of 1 million Monday, less than a year since the new disease was first reported in central China before spreading to Europe then rocking the U.S.
In what was once the epicenter of the virus, New York reported an uptick in cases over the weekend, seeing its first day with more than 1,000 new cases for the first time since June. Many of the new cases are centered around southern portions of the state and in New York City.
"The key with these clusters is to jump on them quickly," Gov. Andrew Cuomo said Monday during a press briefing. 
Meanwhile, as public health officials have warned about the potential devastation the flu season paired with COVID-19 could have on the nation's healthcare system, a new poll in Michigan found 1 in 3 parents say they won't get their children a flu vaccine this year. 
Some significant developments:
South Korea health officials reported the country's lowest daily increase of coronavirus infections, with 50 new cases on Monday.
India has become the second country to report 6 million confirmed cases. 
Florida surpassed 700,000 cases of COVID-19 on Sunday.
Areas with high numbers of Black and non-white Latino residents had higher infection rates than mostly white communities, a study on herd immunity found.
📈 Today's numbers: The U.S. has reported more than 7.1 million cases and 204,700 deaths, according to Johns Hopkins University data. New case records were set in Montana, South Dakota, Utah, Wisconsin and Wyoming, according to a USA TODAY analysis of Johns Hopkins data. Record numbers of deaths were reported in Alaska and North Dakota. Globally, there have been more than 33.1 million cases and more than 999,000 million fatalities.
📰 What we're reading: As parents nationwide tread through a wildly different education landscape this year, many are disappearing from the rosters of their local public schools. Many large school districts that started the year with all children learning virtually are reporting enrollment declines and missing large swaths of children in the youngest grades.
🗺️ Mapping coronavirus: Track the U.S. outbreak, state by state.
This file will be updated throughout the day. For updates in your inbox, subscribe to The Daily Briefing newsletter.
Cuomo to combat New York COVID uptick with rapid testing
New York has seen clusters of COVID-19 cases cause a spike in statewide numbers in recent days, and Gov. Andrew Cuomo said Monday he would deploy rapid COVID-19 testing machines to target to areas. 
New York reported more than 1,000 new cases of the coronavirus on Saturday, the highest spike the state has seen since early June when the new case load was declining from an April peak. The state reported 866 new cases on Sunday, and its statewide infection also rate hit 1.5% on Sunday, the highest level since July.
Most of the new cases are centered in the Mid-Hudson and Southern Tier regions. New York City has also seen clusters contribute to an overall spike, with neighborhoods in Brooklyn and Queens of particular concern to health officials.
Some communities have infection rates as high as 30%, and Cuomo said about 200 rapid testing machines will be made available based on Zip codes with the highest infection rates.
"The key with these clusters is to jump on them quickly," Cuomo said Monday during a press briefing. 
– David Robinson
Poll: 1 in 3 parents say they won't vaccinate their kids against flu this year
Public health experts fear winter will bring the seasonal flu on top of the coronavirus pandemic, and one survey shows that one in three parents say they won't get their children flu shots this year.
"The pandemic doesn't seem to be changing parents' minds about the importance of the flu vaccine," the poll analysis concluded. "It could be a double whammy flu season this year as the nation already faces a viral deadly disease with nearly twin symptoms."
The poll, released Monday by Michigan Medicine's C.S. Mott Children's Hospital in Ann Arbor also reported that 14% of parents said they will not seek the flu vaccine because they are keeping children away from health care sites because of the risk of coronavirus exposure. Others may not be getting reminders to get the flu shot because child health providers have limited the number of patients seen for in-person visits.
– Frank Witsil and Adrianna Rodriguez
Inovio's vaccine candidate trials paused amid FDA questions
Clinical trials for a potential COVID-19 vaccine are on hold as the Food and Drug Administration asked the manufacturer for more information about its delivery device.
Pharmaceutical company Inovio said Monday that its middle and late stage trials for its vaccine candidate were "on partial clinical hold" as it answers the FDA's questions and the agency responds. The company said the delay was not caused by any adverse effects from the potential vaccine in the first stage of its trial.
The company's vaccine candidate relies upon its device Cellectra, which uses small electrical pulses to open up pores in the skin that allow DNA to enter the body. The company said it would answer the questions in October and the FDA will have 30 days to respond.
Sweden's health minister: 1M global deaths is 'fairly small number'
Sweden's health minister, the architect of the country's approach to keep much of the country open amid the coronavirus pandemic, said Monday that the global death toll of 1 million people "is a fairly small number compared to many other diseases that cause death." 
Anders Tegnell made the comment on the radio and added that "we must not be fooled into thinking that this is the only problem we have in the world when it comes to global health."
Sweden, unlike many of its European neighbors, kept restaurants, gyms, schools and other businesses and services open as the pandemic swept across the continent. 
While those arguing against lockdown orders often point to Sweden as success story, the country has fared worse than its Nordic neighbors.
Florida schools reopened, but a surge in coronavirus didn't follow
Many teachers and families feared a spike in COVID-19 cases when Florida made the controversial push to reopen schools in August with in-person instruction.
But a USA TODAY analysis shows the state's positive case count among kids ages 5 to 17 declined through late September after a peak in July. Among the counties seeing surges in overall cases, it's college-age adults – not school children – driving the trend, the analysis found.
The early results in Florida show the success of rigorous mask-wearing, social distancing, isolating contacts and quick contact tracing when necessary, health experts said. But the experts caution that just because things went well for schools early doesn't mean they can't be the source of future problems. And they warned against reading the data as a reason to reopen all schools or abandon safety measures.
– Jayme Fraser, Mike Stucka, Emily Bloch, Rachel Fradette, Sommer Brugal
Mall Santas may lose gigs in first holiday season of the pandemic
In a year like no other, even Santa Claus may find himself out of work.
A visit to the mall to sit on the jolly old elf's lap may be yet another tradition knocked to the wayside by COVID-19, as wary parents keep their children home. And while that's bad news for kids, it may be worse news for all those Santas who count on gigs at department stores and office Christmas bashes to earn extra cash – or, in some cases, a big chunk of their annual income.
"I normally have 20 to 30 bookings, and right now I have two," said Mike Hadrych, 72, of Canoga Park, California, who has made up to 70 appearances as Santa during a single year.
– Charisse Jones
CLOSE


Without masks and a vaccine, we could reach Herd Immunity from COVID-19, but deaths would skyrocket. We break down the science of it.
USA TODAY
Florida surpasses 700K cases as restaurants, bars reopen at full capacity
Two days after Gov. Ron DeSantis ordered counties to let restaurants and bars reopen at full capacity, Florida's count of COVID-19 cases topped 700,000 on Sunday with the death toll hitting 14,202.
State data showed the new milestone at 700,564, around 10% of the nationwide total of more than 7 million. While Florida is still one of the hot spots in the nation, the number of new diagnoses has dropped from a month-high of 24,864 tallied in the week ending Sept. 5 to 18,227 recorded in the past week.
DeSantis acknowledged that the pandemic is far from over and there could be a second surge of cases. But, he said, the state has plenty of hospital beds available should that happen. Closing the economy and throwing people out of work, he said, won't stop the virus. "I don't think that's viable. I don't think that's acceptable," he said.
– Tony Doris, Palm Beach (Fla.) Post
Prince Charles: Students may need 'urgent help to protect their futures' from pandemic
Prince Charles has warned that up to 1 million young people in Britain may need "urgent help" to protect their futures from the ravages of the COVID-19 pandemic, as politicians debated whether to keep British university students from returning home for Christmas.
The Prince of Wales said the social and economic crisis created by the coronavirus is reminiscent of the upheavals of the 1970s, when youth unemployment was one of the pressing issues facing British society.
"There has never been a time as uniquely challenging as the present, when the pandemic has left perhaps another million young people needing urgent help to protect their futures," he wrote in the Sunday Telegraph. "The task ahead is unquestionably vast, but it is not insurmountable."
The comments came as the spread of COVID-19 accelerates across the U.K., prompting the government to impose new restrictions.
CLOSE


The Centers for Disease Control and Prevention logged 1,600 COVID-19 investigations on commercial aircraft between January and August.
USA TODAY
Principals leader: NYC doesn't have enough teachers for classes this week
The leader of the New York City union representing its principals on Sunday urged the state to take control of the school system from Mayor Bill de Blasio.
Mark Cannizzaro, president of the Council of School Supervisors and Administrators, expressed concern with the mayor's plan under which most of the city's 1.1 million students would begin reporting to classrooms this week. Cannizzaro told The New York Times the city doesn't have enough teachers to staff schools. But he also said principals have no plans to strike.
"I think parents should be confident that any child that arrives at a building will be given the utmost care," Cannizzaro said. The union's executive board cast a unanimous vote of no confidence; city school officials said plans for elementary school students to return to classes Tuesday and middle and high schoolers to go back Thursday remain in place.
WHO: People will probably start getting vaccinated in mid-2021
Mass vaccinations for COVID-19 aren't likely before next summer, World Health Organization Chief Scientist Soumya Swaminathan said Sunday.
Swaminathan said the ideal vaccine would protect at least 70% of those who are vaccinated, but that a minimum standard is 50%. The ideal vaccine would require only one shot and last for several years, she said. Most of what she said parallels predictions made by Dr. Anthony Fauci and other top U.S. experts.
"By the time people start getting the vaccine … it would be somewhere in the middle of 2021," she said. 
COVID-19 resources from USA TODAY
Contributing: The Associated Press
Read or Share this story: https://www.usatoday.com/story/news/health/2020/09/28/covid-news-1-m-deaths-new-york-city-schools-who/3555686001/