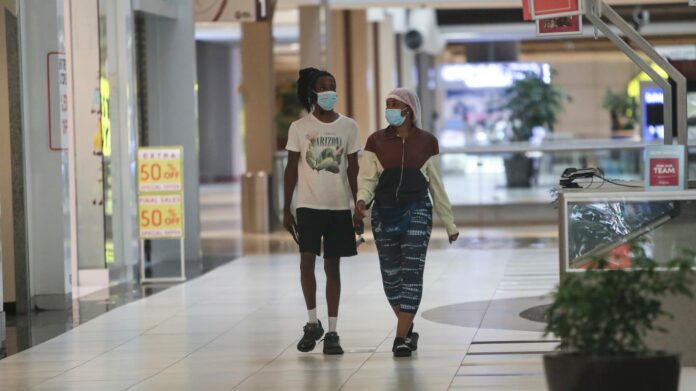 CLOSE

Joe Biden will not be traveling to Milwaukee for the Democratic National Convention due to coronavirus concerns.
USA TODAY
Nationwide testing for COVID-19 is declining even as daily infections and deaths remain high due in part to Americans growing discouraged over long waits for tests and results.
Another concern is the extent to which a "different" kind of outbreak is spreading into rural America, White House coronavirus task force coordinator Dr. Deborah Birx says.
Not all the news is bad – New York City has reported zero deaths for three straight days. The city on Thursday began setting up checkpoints to warn visitors about quarantine rules. On the West Coast, Los Angeles are threatening to cut off power and water to party houses.
The nation's top health official, Dr. Anthony Fauci, says the country's overall response to the pandemic has allowed the daily case count to plateau at an "unacceptable level," warning that the U.S. will continue to "smolder" without a unified effort to stop the virus.
Here are some significant developments:
More than 8 in 10 teachers are concerned about returning to the classroom this fall, an NPR/Ipsos poll finds.
Citing their misinformation policies, Facebook and Twitter removed videos of President Donald Trump during a Fox interview where he said kids are "almost immune" to COVID-19. Doctors say children can catch and pass on the coronavirus.
Last week's new jobless claims are down: About 1.2 million people filed initial applications for unemployment insurance last week, the Labor Department said Thursday. 
📈 Today's numbers: The U.S. has recorded more than 158,000 deaths and 4.8 million cases of COVID-19, according to Johns Hopkins University. Worldwide, there have been more than 706,000 deaths and 18.8 million cases. 
📰 What we're reading: A deadly explosion that rocked Lebanon's capital city of Beirut has put a further strain on the nation's health system, which was already running short on personal protective equipment and grappling with more than 5,200 cases of COVID-19.
Our live blog is being updated throughout the day. Refresh for the latest news, and get updates in your inbox with The Daily Briefing.
Don't drink hand sanitizer, CDC warns
Four people have died and nearly a dozen others have suffered health complications after swallowing alcohol-based hand sanitizers. The Centers for Disease Control and Prevention says that from May through June 30, there were 15 cases of methanol poisoning reported in Arizona and New Mexico, and each was associated with people drinking hand sanitizer. The CDC says hand sanitizers should contain ethanol or isopropanol as active ingredients, but some products imported from other countries contain methanol, which is "not an acceptable ingredient."
The CDC says washing and disinfecting your hands is an effective way to combat the spread of COVID-19 but that some people apparently drink it for its alcohol content. 
– Dalvin Brown
Facebook takes down Trump post claiming kids 'almost immune'
Facebook took down a post from President Trump's personal page of a Fox News interview in which he said that children are "almost immune" from COVID-19. It was the first time Facebook has removed a post by the president for violating its policies on COVID-19 misinformation. The post was a "violation of our policies around harmful COVID misinformation," Facebook said in a statement.
"The President was stating a fact that children are less susceptible to the coronavirus," said Courtney Parella, deputy national press secretary for Trump's reelection campaign "Another day, another display of Silicon Valley's flagrant bias against this President."
– Jessica Guynn
1.2M more workers file for unemployment amid COVID-19 spikes
Employers continue to lay off workers at a historic pace as the pandemic roars on. About 1.2 million people filed initial applications for unemployment insurance – a rough measure of layoffs – last week, the Labor Department said Thursday, down substantially from 1.4 million the prior week and the lowest level since March. 
"The story here, we think, is that layoffs triggered by the second wave of COVID-19 in the South and West are now falling," Ian Shepherdson, chief economist of Pantheon Macroeconomics wrote in a research note.
– Paul Davidson
New York City sets up checkpoints to enforce quarantines
New York City began establishing registration checkpoints Thursday to try to ensure visitors from states with high COVID-19 infection rates go into quarantine when they come across the border. The city requires anyone staying in New York from 34 states with high coronavirus cases go 14-day quarantine, Mayor Bill de Blasio said.
City police will be intermittently stopping travelers who have visited the states and requiring them to complete a state Department of Health traveler form. The first post was setup for people arriving at Penn Station, the busiest train station in the nation.
"They will be reminded that it is required not optional," de Blasio said. "They'll be reminded that failure to quarantine is a violation of state law, and it comes with serious penalties."
– Joseph Spector
North Korea locks down city of Kaesong amid virus concerns
North Korea is quarantining thousands of people and shipping food and other aid to the southern city of Kaesong, locked down over coronavirus worries, officials said. North Korea, which has closed its borders and cut travel by outsider monitors and journalists, claims only one person who had recently returned from South Korea may have tested positive. Edwin Salvador, WHO representative to North Korea, told the Associated Press that group gatherings are banned, masks are required in public, and all educational institutions, including preschools, are on an extended summer break.
Los Angeles to shut off power, water to party houses
The city of Los Angeles will cut off power and water to homes and businesses where recurring parties take place without social distancing, Mayor Eric Garcetti says. Earlier this week the county health department banned large gatherings following a much-publicized house party where people crowded together without masks. Violating the order is "punishable by fine, imprisonment, or both," the department warned. Garcetti said the utility cutoffs would go into effect Friday night.
"If LAPD responds and verifies that a large gathering is occurring at a property, and we see these properties offending time and time again, they will provide notice and initiate the process to request that DWP shut off service within the next 48 hours," Garcetti said.
Virus testing declines amid frustration over delays
Coronavirus testing is dropping nationwide despite an unrelenting rush of new cases and death toll still averaging more than 1,000 per day, according to an analysis of data by the Associated Press. Some experts attribute the decline in testing to the hours of waiting required to get a test in some areas – and days or weeks of waiting sometimes involved in obtaining the results of those test. The number of tests per day slid 3.6% over the past two weeks to 750,000, with the count falling in 22 states. That includes places where the percentage of positive tests are alarmingly high, such as Alabama, Mississippi, Missouri and Iowa.
"There's a sense of desperation," said Dr. Ashish Jha, director of Harvard's Global Health Institute.
CLOSE

Communities of color are dying at higher rates from the novel coronavirus than white Americans. Here's how structural inequities play a role.
USA TODAY
5 states, Puerto Rico still dealing with record weekly fatalities
Hawaii and Puerto Rico set records for new cases in a week while five states had a record number of deaths in a week, a USA TODAY analysis of Johns Hopkins data through late Wednesday shows. Record numbers of deaths were reported in Arkansas, Florida, Mississippi, Nevada and Oklahoma, and also Puerto Rico. The good news is that some large states that where cases were peeking in recent weeks, such as California, Florida and Texas, are seeing a decline in confirmed cases.
– Mike Stucka
Birx offers warnings about 9 cities, California's Central Valley
White House task force coordinator Dr. Deborah Birx outlined national concern over high positive-testing rates in a private phone call with state and local officials Wednesday, according to a recording of the call obtained by the journalism non-profit Center for Public Integrity. Baltimore and Atlanta "remain at a very high level," Birx said on the call. Additionally, Kansas City in Missouri, Portland in Oregon, Omaha in Nebraska, and the Central Valley in California remain at elevated levels, according to Birx.
"This outbreak is different from the March, April outbreak in that it's in both rural and urban areas," Birx said.
Two-thirds of K-12 teachers prefer fall classes be remote, new poll shows
A new NPR/Ipsos poll released Thursday finds that more than 8 in 10 teachers are concerned about returning to the classroom this fall, and that two-thirds prefer to teach fall classes primarily remotely rather than in-person.
The poll comes as many school districts prepare to reopen campuses. Some experts fear classrooms will become the next incubators for large coronavirus outbreaks.
A May poll conducted by USA TODAY found that 1 in 5 teachers say they are unlikely to go back to school if their classrooms reopen in the fall, a potential massive wave of resignations.
Trump interview clip pulled from Facebook, Twitter
Facebook took down a post from President Trump's personal page of a Fox News interview in which he said that children are "almost immune" from COVID-19, citing its misinformation policy. 
It was the first time Facebook has removed a post by the president for violating its policies on COVID-19 misinformation. Twitter also took action late Wednesday. At issue: a video clip from an interview with Fox & Friends, which aired Wednesday morning, in which Trump said children should return to school because they are "almost immune" or "virtually immune" from the disease.
Doctors say children can catch – and pass on – the coronavirus, which has claimed more than 150,000 lives. 
– Jessica Guynn
Trump backs extended payroll protection for airline workers 
President Donald Trump said Wednesday that he'd support an extension of payroll support for airlines as the coronavirus pandemic continues to eat away at their business. Trump's support comes after 16 senators signed a letter to Senate Majority Leader Mitch McConnell, R-Ky., and Senate Minority Leader Charles Schumer, D-N.Y., asking for the extension to spare potentially tens of thousands of airline jobs that are at risk after current funding is exhausted at the end of September.
"We don't want to lose our airlines," Trump told reporters at a White House briefing on Wednesday. More than 8,000 airline pilots have received notices that they could be furloughed, according to the Air Line Pilots Association.
– Curtis Tate
Navajo Nation reports 39 more cases, 4 deaths amid COVID-19 outbreak
Navajo Nation health officials have reported 39 more cases of COVID-19 and four additional deaths, bringing the total number of people infected to 9,195 and the known death toll to 467 as of Wednesday night. Navajo Department of Health officials said 83,527 people have been tested for the coronavirus and 6,766 have recovered. The vast reservation that covers parts of Arizona, New Mexico and Utah.
Joe Biden won't go to Milwaukee to claim Democratic nomination
When Milwaukee landed the 2020 Democratic National Convention more than a year ago, city leaders hoped 50,000 people would flood into town for four non-stop days and nights of politics. Now even the party's nominee isn't going.
Officials announced Wednesday that Joe Biden will accept the party's nod from his home in Delaware – and the other convention speakers won't travel to Wisconsin, either. Organizers cited the "worsening coronavirus pandemic." 
"This convention will look different than any previous convention in history," said Joe Solmonese, the convention's chief executive. "It will reach more people than ever before, and truly be a convention across America for all Americans, regardless of which party you belong to or who you've voted for in previous elections."
– Bill Glauber, Milwaukee Journal Sentinel
More: The White House? Gettysburg? Florida? Trump team looks at options for nomination speech
More COVID-19 resources from USA TODAY
On Facebook: There's still a lot unknown about the coronavirus. But what we do know, we're sharing with you. Join our Facebook group, Coronavirus Watch, to receive daily updates in your feed and chat with others in the community about COVID-19.  
In your inbox: Stay up-to-date with the latest news on the coronavirus pandemic from the USA TODAY Network. Sign up for the daily Coronavirus Watch newsletter here. 
Tips for coping: Every Saturday and Tuesday we'll be in your inbox, offering you a virtual hug and a little bit of solace in these difficult times. Sign up for Staying Apart, Together here.
Contributing: The Associated Press
Read or Share this story: https://www.usatoday.com/story/news/health/2020/08/06/covid-19-updates-jobless-claims-deborah-birx-navajo-nation/3304040001/