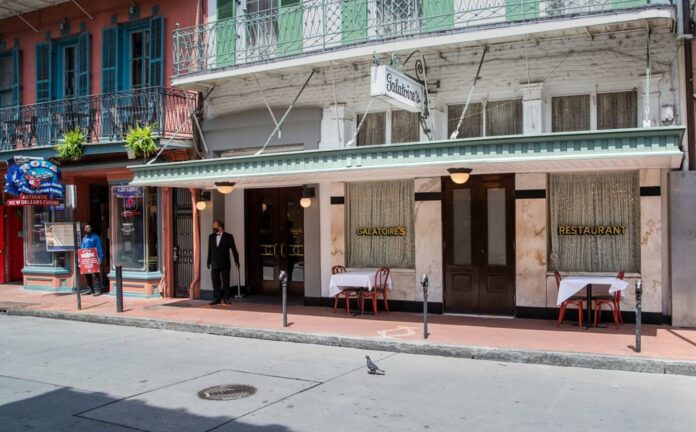 New cases in the ongoing hepatitis A outbreak that has spread through Louisiana since 2018 have been linked to Galatoire's Restaurant. 
The French Quarter fine-dining establishment was notified by the Louisiana Department of Health of a "potential incident dating from early to mid-August," according to a statement from the restaurant. 
"Consistent with our own high standards, we embraced the assistance of the Department of Health and together outlined steps Galatoire's could take to be as responsive as possible for our team and our guests," the restaurant said in an emailed statement.
The restaurant didn't provide details on how many people had been infected, or if the illness was identified in a staff member or a guest.
When Friday lunch got rolling at Galatoire's this week, waiter John Fontenot had the attention of every table in the room.
The source of the illness has also not been made public, but the incident is among the 1,244 cases the state of Louisiana has recorded since Jan. 1, 2018. Four people have died since the outbreak in the state was first declared. Sixty percent of the known infections required hospitalization. 
Prior to the outbreak, the highest number of cases the state recorded in a single year since 2008 was 14. 
Galatoire's shut its doors early in the coronavirus pandemic and reopened with socially-distanced tables and other safety measures in late May. John Georges, owner of The Times-Picayune | New Orleans Advocate, is also a partner in the restaurant.
It is unclear how the disease, a highly contagious liver infection, was transmitted. Typically, hepatitis A spreads most rapidly among people who use drugs or are experiencing homelessness, according to Dr. Joe Kanter, an assistant state health officer who led vaccination efforts among the homeless when cases started to rise in the city.
"[An incident] is usually indicative of a larger hepatitis A issue going on in a community," said Kanter.
Though some past hepatitis A outbreaks have been traced to a food source, foodborne outbreak of hepatitis A is "exceedingly rare," said Kanter. A recent survey of 26 state health departments showed that among almost 23,000 hepatitis A outbreak cases, less than 4% were transmitted by food handlers.
Vaccination efforts by the state to tamp down hepatitis A took a pause during the first few months of COVID-19, Kanter said. Hepatitis A was also down during that time, likely because people were staying at home.
But the hepatitis A outbreak reemerged between May and June. Though health officials proactively vaccinated groups most vulnerable, the New Orleans area is especially at-risk.
"Recently in the past few weeks, we've been seeing more cases in New Orleans than elsewhere," said Kanter. "We have all the building blocks of a bad outbreak — homeless shelters, homeless encampments and a not-small community of people who use drugs."
And as flu season approaches, the rising numbers of hepatitis A in New Orleans are a reminder that other diseases are a still a threat amid a pandemic.
"It's still important to get an annual cancer screening, an annual colonoscopy if you're over 50," said Kanter. "All the issues … before COVID are still important now."
The disease spreads through tiny fecal particles spread through food, drink or other objects contaminated by an infected person. It can also be spread through close personal contact, such as oral-anal sex, caring for an infected person or using drugs with others, according to the Centers for Disease Control and Prevention.
Infection can be prevented by vaccine, which is recommended in children by the American Academy of Pediatrics. 
Severity of illness ranges from mild illness that lasts a couple of weeks to severe illness lasting months and requiring hospitalization. Symptoms include stomach pain, yellowing of the eyes and skin, fatigue, dark urine, pale stool and abnormal liver tests.
The restaurant took part in a state health program providing vaccination to all employees and said it passed a health inspection with "high marks."
"Galatoire's protocols protecting both our guests and staff are extensive and stronger than ever," the restaurant said.
Other states with outbreaks over 1,000 cases include Florida, Georgia, Tennessee, Kentucky, West Virginia, Indiana and Ohio. 
Emily Woodruff covers public health for The Times-Picayune | The New Orleans Advocate as a Report For America corps member.