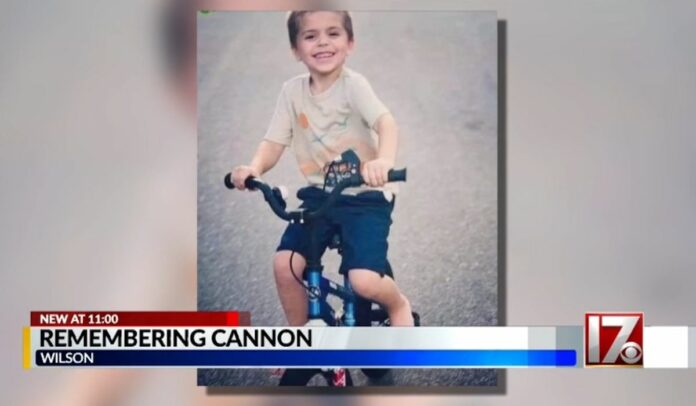 The North Carolina mother of the 5-year-old boy who was fatally shot at point-blank range in his own front yard is pleading for justice against the man who police say pulled the trigger.
Wilson police have charged Darius Sessoms, 25, with first-degree murder in the death of 5-year-old Cannon Hinnant, who was reportedly riding his bike in his yard when Mr. Sessoms shot him in the head Sunday evening. Cannon's family said their two daughters, ages 7 and 8, witnessed the shooting.
Sessoms fled the scene but was arrested Monday in Goldsboro. Police have yet to reveal a possible motive.
Cannon's father, Austin Hinnant, said Mr. Sessoms lived next door to them for years and that they'd just shared a beer together the night before.
"There wasn't anything between me and him, any bad blood whatsoever, for him to have a reason to do this," Mr. Hinnant told WRAL.
Hundreds gathered at the Shingleton Funeral Home in Wilson as Cannon was laid to rest Thursday.
In several emotional Facebook posts, Cannon's mother, Bonny Waddell, said she hoped Mr. Sessoms would "ROT IN HELL." She also sought to dispel some rumors swirling on social media that the shooting could have been racially motivated (Sessoms is Black and Cannon was White), or that Sessoms flew into a rage because the boy was allegedly riding his bike on Sessoms' property.
"My baby didn't see color, my baby made sure you knew he loved you even if he only knew you five minutes. [I don't care] what damn color you were!" she wrote in one post in all capital letters.
"This was not just because my baby was riding a bike!! Don't let this social media and news for you!" she wrote in another.
"I will burn this country down if it's what it'll take to see this man burn in hell," she wrote. "I'm ready to flip this county upside down. … I WANT JUSTICE FOR MY BABY."
Mr. Sessoms has a court date for Aug. 25, USA Today reported. He is being held in the Wilson County Jail without bond.