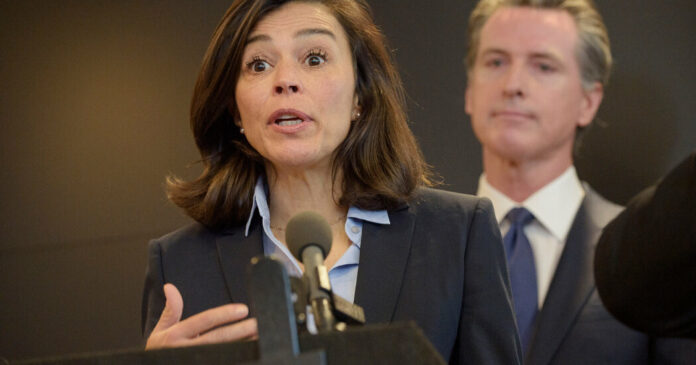 California Today
Tuesday: A top state public health official resigned as California struggles with the pandemic. Also: A swarm of earthquakes; and women's suffrage.

Good morning.
In recent weeks, California's coronavirus response seems to have accelerated its descent from national model to chaotic scramble, as the state emerged as the center of the pandemic.
The state's reopening dissolved into a confusing patchwork of restrictions that differed county by county. Observers have criticized a lack of foresight about a predictable surge in the Central Valley, where low-wage workers in largely Latino communities have been vulnerable as they continue to report to their essential jobs.
And a week ago, state officials said that a technical issue with its disease data-tracking system threw into question what Gov. Gavin Newsom had at first said was an encouraging — if slight — downward trend in skyrocketing cases.
The glitch, according to the state, caused almost 300,000 records to disappear from the system, although it was unclear how many of those were coronavirus cases and how, precisely, it affected the counts.
[Track California's coronavirus cases by county.]
Late on Sunday night, Dr. Sonia Angell, the state's public health director, abruptly resigned.
On Monday, in his first virtual news conference of the week, Mr. Newsom would not answer repeated questions about whether Dr. Angell had been asked to resign over her department's handling of the data problems, though he and Dr. Mark Ghaly, the state's secretary of health and human services, both said the department's leadership was changing.
"She wrote a resignation letter and I accepted her resignation," Mr. Newsom said. "We are all accountable in our respective roles for what happens underneath us."
In a statement on Sunday night, Mr. Newsom thanked Dr. Angell for her work to "help steer our public health system during this global pandemic, while never losing sight of the importance of health equity."
Dr. Ghaly, who has been a regular presence at the governor's Covid-19 briefings, also emphasized Dr. Angell's focus on health equity.
"She has worked tirelessly for all Californians," he said in a statement.
In her resignation letter, Dr. Angell — who, early in the pandemic, spoke about the state's efforts to identify disparities in the pandemic's toll on Latino and Black communities in particular — did not say why she was stepping down, effective immediately.
"Since January, when we got word of repatriation flights arriving from Wuhan, China, our department has been front and center in what has become an all-of-government response of unprecedented proportions to Covid-19," she said in an email to her staff. "Not one of our staff has gone untouched by the changes that have occurred. Not in our professional lives or our personal lives."
Dr. Angell added that she was proud to have served as the first Latina in the role, which she held for less than a year. She signed the note, "In Solidarity."
State officials said that Sandra Shewry, a veteran public health official, would be appointed as acting director of the department, while Dr. Erica Pan would take on the role of acting state public health officer.
[Read about how public health officials have faced death threats in the pandemic.]
The governor on Monday vowed to quickly overhaul what he described as the state's outdated information technology systems, which he blamed for not just the testing data snafu, but also for a staggering backlog of unemployment claims.
"We're not going to just use this as an episodic issue — Band-Aid this," he said. "It took us decades to get into this place, but we're now accountable."
State officials have said that the data glitch didn't affect hospitalization numbers, which have been on the decline.
Nevertheless, it's worth remembering the scale of the pandemic in the state: As of Monday, California had recorded 10,378 deaths related to the virus, third in the nation after New York and New Jersey, according to The Times's database.
(This article is part of the California Today newsletter. Sign up to get it by email.)
Read more about the state's pandemic response:
---
Here's what else to know today
"We pay taxes, we work hard and we don't want to put that in jeopardy." In California, the imperiled census is at particular risk in predominantly Latino communities. Advocates are still working to get the word out. [The New York Times]
Read more about how the pandemic disrupted what was already going to be an uphill climb for the census in California. [The New York Times]
And here's what would happen if California loses a House seat following the census. [The New York Times]
Joe Biden is reportedly set to announce his vice-presidential pick. Two Californians are among the top contenders. [The New York Times]

A swarm of earthquakes under the Salton Sea prompted worries that it might raise the chance of a much larger event on the San Andreas fault. [The Los Angeles Times]
Although the seismologist Lucy Jones wrote on Twitter that she wasn't cutting her vacation short.
---
And Finally …
So, my colleagues have unearthed some of the stories you may not know.
Jenny Medina wrote this obituary about Jovita Idár, a writer, editor, teacher and activist at a newspaper in Laredo, Texas, who fought fiercely for Mexican-Americans' and women's rights.
And Idár looked to women in California, which granted women the right to vote in 1911, as examples.
---
California Today goes live at 6:30 a.m. Pacific time weekdays. Tell us what you want to see: [email protected]. Were you forwarded this email? Sign up for California Today here.
Jill Cowan grew up in Orange County, went to school at U.C. Berkeley and has reported all over the state, including the Bay Area, Bakersfield and Los Angeles — but she always wants to see more. Follow along here or on Twitter, @jillcowan.
California Today is edited by Julie Bloom, who grew up in Los Angeles and graduated from U.C. Berkeley.