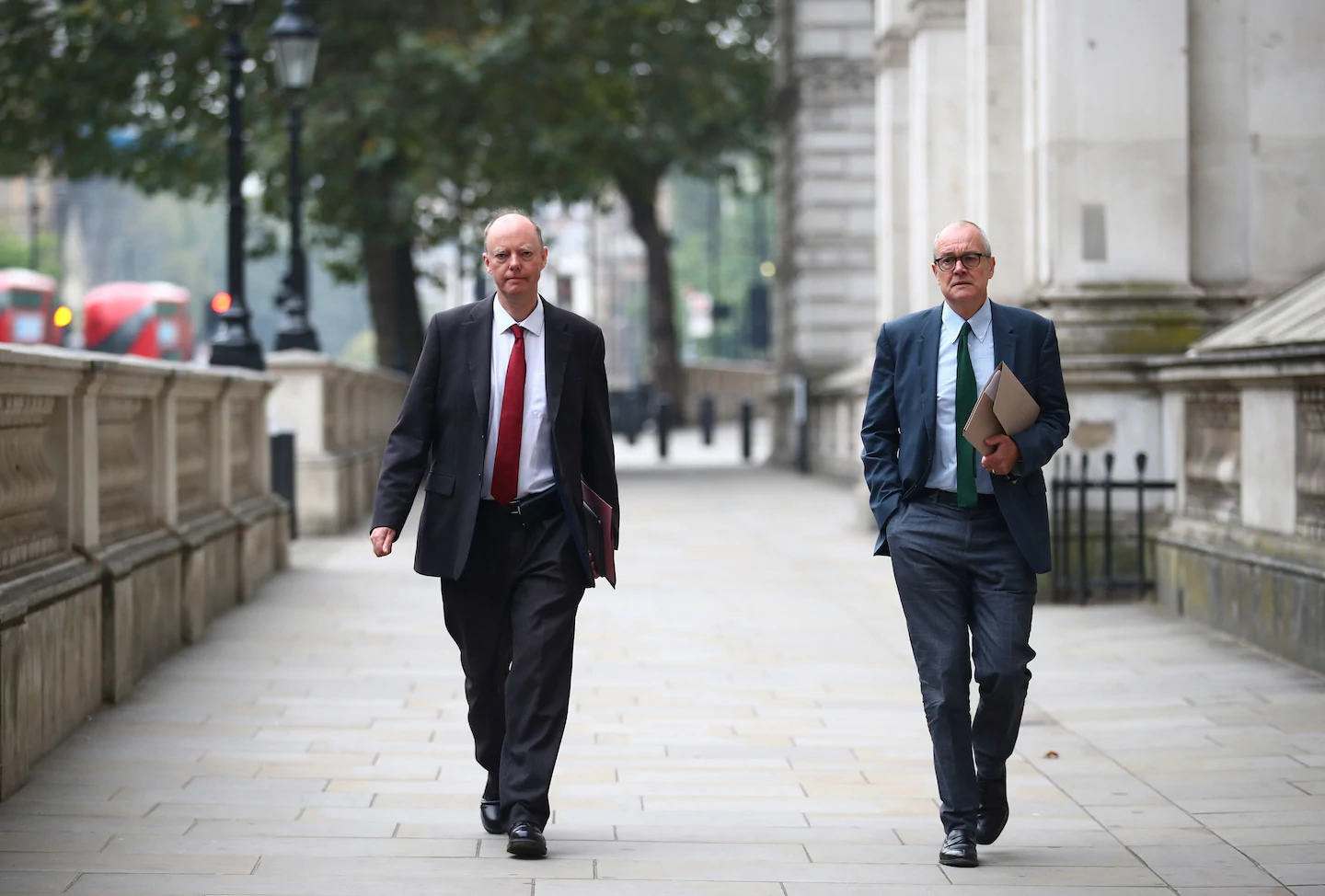 LONDON — Britain could face 50,000 coronavirus cases a day by mid-October if it stays on its current trajectory, top government scientists warned Monday.
In a rare televised address from 10 Downing Street, Patrick Vallance, the British government's chief scientific adviser, and Chris Whitty, chief medical officer for England, said the number of covid-19 cases is doubling roughly every seven days.
"If, and that's quite a big if, but if that continues unabated . . . you would end up with something like 50,000 cases in the middle of October, per day," said Vallance. A month later, this could result in more than 200 deaths a day, he said.
The ominous warning comes amid speculation that the British government is set to introduce a new round of restrictions. Prime Minister Boris Johnson is expected to make a statement to Parliament on Tuesday on the next steps Britain will take.
The reports of new measures, along with growing concern over outbreaks elsewhere in Europe, helped to send stocks tumbling on Monday. London's FTSE 100 index was down 3.4 percent, and the Pan-European Stoxx 600 index sank 3.2 percent.
Other countries in Europe that have seen a renewed rise in coronavirus cases have opted for targeted local restrictions over a repeat of the full-scale lockdowns from the Spring.
Johnson, too, has said he wants to avoid another broad shutdown of the economy, and he has made clear on several occasions that he wants schools, in particular, to remain open.
Analysts said the government may introduce new curfews, fines, limits on families mixing. Another possibility would be two-week mini lockdowns that could act as a "circuit breaker."
Just last week, the government introduced a "rule of six," reducing the number of people who are allowed to meet socially, both indoors and outdoors. An estimated 13.5 million people across the country are already living under local lockdown restrictions.
Britain's coronavirus caseload began rising again in July, the government scientists said, especially among young adults. On Monday, 4,368 daily cases were reported. At the peak of Britain's outbreak in April, about 5,000 daily cases were being reported.
The U.K.'s chief medical officers issued a statement Monday recommending that Britain's covid-19 alert level be increased to from 3 to 4, meaning the transmission is "high or rising exponentially."
Vallance said that about 8 percent of the population may have antibodies, which can fade over time. He said the "virus has genetically moved a bit, but it has not changed in terms of its propensity and its ability to cause disease and to cause death."
Britain's death toll of 41,777 is the highest in Europe.
"We are now seeing a second wave coming in. We've seen it in France, in Spain, across Europe," Johnson said last week. "It's been absolutely inevitable, I'm afraid, that we would see it in this country."
Whitty said that "if we don't do enough, the virus will take off. At the moment, that is the path that we are clearly on."
He said that disruptions may be here for some time — "we should see this as a six-month problem" — and stressed that society as a whole needs to take action.
"A lot of people say, 'Well, can't people just be allowed to take their own risk?'" he said. But the problem is that "sooner or later, the chain will meet people who are vulnerable or elderly or have a long-term problem for covid," he added. "You cannot in an epidemic just take your own risk. Unfortunately you're taking a risk on behalf of everyone else."