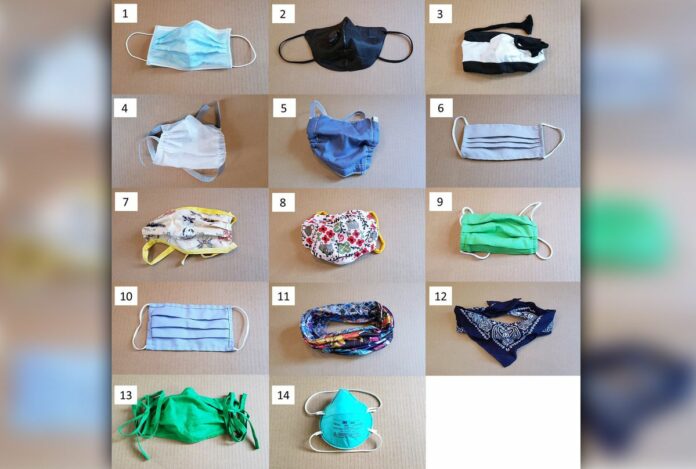 Not all masks are created equal.
Researchers at Duke University have tested 14 types of masks and other facial coverings and found that some are wanting when it comes to coronavirus protection, while others are quite good.
Using an easy-to-assemble laser and cellphone system, the team shined precise light onto the droplets emitted by someone wearing all varieties of mask, from none to the high-concept N95 that health care workers use.
The droplets people inadvertently spray out while coughing, sneezing, singing, shouting or even talking appear to be the most common form of transmission. The fewer of those we spew into everyone's common air space, the lower the infection rate for SARS-CoV-2, which causes COVID-19.
Since as many as 40% of infected people don't know they have it and can transmit the novel coronavirus to equally unsuspecting people they come in contact with, knowing what does and does not stop transmission is key, the researchers said. So is wearing a mask.
"If everyone wore a mask, we could stop up to 99% of these droplets before they reach someone else," study co-author Dr. Eric Westman, a physician at Duke, said in a statement. "In the absence of a vaccine or antiviral medicine, it's the one proven way to protect others as well as yourself."
There were a few surprises, most notably that pulling fleece over your mouth and nose is apparently worse than no mask at all.
Breaking News Newsletter
As it happens
Get updates on the coronavirus pandemic and other news as it happens with our free breaking news email alerts.
"We were extremely surprised to find that the number of particles measured with the fleece actually exceeded the number of particles measured without wearing any mask," study co-author Martin Fischer, a chemist and physicist at Duke, told CNN. "We want to emphasize that we really encourage people to wear masks, but we want them to wear masks that actually work."
Folded bandanas and knitted masks were not much better, the researchers said.
The best one turned out to be an N95 without the valve, the researches said, followed by three-layer surgical masks and the types of cotton masks that people have been making themselves. Those hand-made cotton face coverings "provided good coverage, eliminating a substantial amount of the spray from normal speech," the researchers said.
The proof-of-concept study appeared online Friday in the journal Science Advances.
The hope is that companies, museums and community groups will set up the tests to show both themselves and potential mask wearers the effectiveness of each method.
"This is a very powerful visual tool to raise awareness that a very simple mask, like these homemade cotton masks, do really well to stop the majority of these respiratory droplets," Fischer told CNN. "Companies and manufacturers can set this up and test their mask designs before producing them, which would also be very useful."