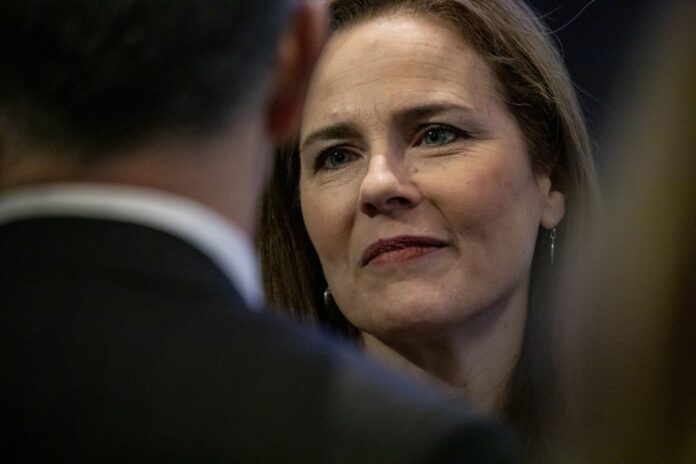 When Amy Coney Barrett last appeared on President Donald Trump's shortlist of Supreme Court nominees, she was only months into her first turn as a judge on Chicago's 7th U.S. Circuit Court of Appeals and had a very slim record of rulings.
This time, as she finds herself a front-runner to be nominated for the seat vacated with the death of Ruth Bader Ginsburg, Barrett, a darling of social conservatives, brings to the national spotlight more than 100 written opinions and dissents authored over the past 2½ years. They range from writings on mundane issues to lengthy dissents on hot-button topics including gun control and immigration.
Those rulings — along with her role in an abortion-related case in 2018 — are sure to be scrutinized closely in what would clearly be a fiercely contested confirmation process should Barrett earn the president's nomination.
Democrats, led by presidential nominee Joe Biden, are protesting the Republicans' rush to replace Ginsburg, saying voters should speak first, on Election Day, and the winner of the White House should fill the vacancy. GOP congressional leaders famously blocked President Barack Obama's 2016 nominee, Merrick Garland, citing that reason, and have now signaled they will flip-flop on that stance and vote on Trump's pick.
Ginsburg, 87, the court's longtime liberal icon, died Friday of metastatic pancreatic cancer. She will lie in state at the U.S. Capitol this week — the first woman ever accorded that honor — before a private burial next week at Arlington National Cemetery.

Barrett, who turned 48 in January, would be the youngest jurist on the Supreme Court and could shape the country's legal direction for decades to come.
Barrett enjoys the widespread and often passionate support of colleagues stretching back to her days as a clerk for the late Supreme Court Justice Antonin Scalia 20 years ago.
Fellow clerks nicknamed Barrett "The Conenator" — a play on her maiden name and reputation for destroying flimsy legal arguments.
A devout Roman Catholic and mother of seven, Barrett considers herself a public meaning originalist who applies the intent of the authors of the Constitution or governing laws at the time they were written when trying to discern whether someone's rights have been violated.
Barrett's originalist mindset was on display in 2018 when she cited centuries-old laws in Britain and elsewhere in a dissent over a 7th Circuit appeal involving a Wisconsin man convicted of being a felon in possession of a handgun.
While Barrett's colleagues ruled that Wisconsin's law barring felons from having firearms was constitutional, Barrett wrote that since the plaintiff had been convicted of a white-collar crime, he was not inherently dangerous.
"Founding-era legislatures did not strip felons of the right to bear arms simply because of their status as felons," Barrett wrote in her dissent, which said the Wisconsin law should be declared unconstitutional. "In 1791 — and for well more than a century afterward — legislatures disqualified categories of people from the right to bear arms only when they judged that doing so was necessary to protect the public safety."
But it's the abortion issue that could prove to be the most polarizing should Trump nominate Barrett, especially given she would potentially replace Ginsburg, a liberal champion of women's rights.
When Barrett was on the shortlist to replace retiring Justice Anthony Kennedy in 2018, opponents pointed to her scholarly articles and Catholic faith as suggesting she is a religious extremist who could be willing to overturn precedent and end legal abortion established by the Supreme Court in Roe v. Wade.
Critics focused in part on Barrett's affiliation with People of Praise, a charismatic faith group that has been portrayed as oppressive and misogynistic — a charge the group rejects.
Supporters and former colleagues, however, described an exacting legal thinker committed to separating her faith from her interpretation of the Constitution and law.
"She was very, very smart. Not at all ideological," Jay Wexler, a Boston University law professor and self-described liberal atheist who clerked for Ginsburg alongside Barrett, told the Tribune in a 2018 interview. "I take her at her word that she will try as hard as anyone can to bracket the views she has as she decides cases."
Her nearly three-year stint on the bench in Chicago has included at least one abortion-related case.
A 2018 ruling by a 7th Circuit panel declared unconstitutional an Indiana law requiring the burial of fetal remains after an abortion or miscarriage, which prohibited clinics from treating the remains as waste. The law, signed by then-Gov. Mike Pence, also barred abortions on the basis of race, sex or disabilities of the fetus.
Barrett joined three conservative judges in asking for the ruling to be tossed and for the full court to rehear the case. The trio didn't have the votes to force a rehearing. But they issued a joint dissent on the rehearing decision, clearly suggesting they thought the Indiana law was constitutional.
For her part, Barrett's public statements have not clearly indicated that she thinks Roe can or should be overturned.
"I think it is very unlikely at this point that the court is going to overturn Roe, or Roe as curbed by (Planned Parenthood v.) Casey," she was quoted as saying at a 2013 Notre Dame luncheon on the ruling's 40th anniversary.
"The fundamental element, that the woman has a right to choose abortion, will probably stand," she added. "The controversy right now is about funding. It's a question of whether abortions will be publicly or privately funded."
Barrett became a star among conservatives in fall 2017 after her Catholic faith took center stage during her confirmation hearing to the 7th Circuit. Democrats on the Senate panel, including Sen. Dianne Feinstein of California, grilled Barrett about whether her religious beliefs would influence her legal thinking and lead her to overturn rulings such as Roe.
"The dogma lives loudly within you," Feinstein told Barrett, "and that's of concern when you come to big issues that large numbers of people have fought for, for years in this country."
Barrett's supporters were incensed, and the comment became the subject of T-shirts and coffee mugs bearing her face. Conservatives accused the senator and other Democrats of using anti-Catholic rhetoric. The presidents of Notre Dame and Princeton University wrote letters in support of Barrett, noting that the Constitution bans religious tests for public office.
Along with Feinstein, Sen. Dick Durbin of Illinois was called out, and the Catholic lawmaker responded to the criticism in a Chicago Tribune letter to the editor.
"My questions were confined to issues she raised personally in her writings and speeches which could directly impact the discharge of her duties," Durbin wrote. "It was the nominee who raised the issue."
During her confirmation hearing for the 7th Circuit, Barrett repeatedly said her faith would not intrude on her legal reasoning.
"I see no conflict between having a sincerely held faith and duties as a judge," she testified. "I would never impose my own personal convictions upon the law."
Barrett declined to discuss her personal views on abortion, same-sex marriage and other hot-button topics, but she was questioned on her scholarly writings. Those include a 2013 law review article in which she wrote that the stare decisis doctrine — which holds that past rulings govern future decisions — is "not a hard-and-fast rule in the court's constitutional cases …"
"I tend to agree with those who say that a justice's duty is to the Constitution and that it is thus more legitimate for her to enforce her best understanding of the Constitution rather than a precedent she thinks clearly in conflict with it," she wrote.
The Senate panel also zeroed in on a 1998 paper in which Barrett, then a Notre Dame law student, explored when Catholic judges in death penalty cases might have to recuse themselves if they thought their moral beliefs kept them from doing their duty.
Barrett emphasized she was not the lead author — that was one of her professors, John Garvey, now president of the Catholic University of America. Barrett also said that with 20 years of legal experience, she likely would have written the article differently, though she stood by its core principle — that a judge cannot twist the law to match a personal belief.
The full Senate confirmed Barrett in October 2017, with three Democrats voting in support.
The Associated Press, and Chicago Tribune's Dan Hinkel, David Jackson and Christy Gutowski contributed.