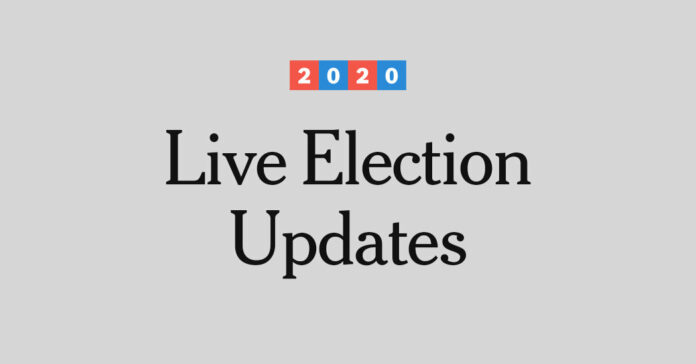 Joe Biden is expected to announce his running mate within days, an event that could be about as normal as the 2020 campaign gets.
Right Now
President Trump said that he may give his nomination speech at Gettysburg, Pa.

Democratic convention speakers will include the Clintons and Obamas, along with Sanders and Kasich.
Hillary Clinton will deliver a prime-time speech next Wednesday for the Democratic National Convention, part of a preliminary lineup of speakers for the truncated, mostly virtual four-night event, three Democratic officials with knowledge of the schedule said Monday.
Former Vice President Joseph R. Biden Jr., the presumptive presidential nominee, has said he will not travel to Milwaukee, where the convention is nominally being held but has been scaled back to just a few hundred attendees. He will speak from Delaware on Thursday, the final night of the convention, in a form and fashion yet to be announced.
Senator Elizabeth Warren of Massachusetts will join Mrs. Clinton, the 2016 nominee, on the Wednesday night program if she is not selected as Mr. Biden's running mate, according to the officials. Former President Bill Clinton will speak as well, one of the officials said.
Senator Bernie Sanders of Vermont and former Gov. John Kasich of Ohio, a Republican who is a harsh critic of President Trump, will deliver addresses Monday night, the officials said.
Former President Barack Obama's time slot has not been announced (or leaked), but he could be included on a crammed Wednesday night program, or possibly introduce Mr. Biden on Thursday — to deliver a nationally televised rendition of the-Joe-I-know speech he has been giving during online Biden fund-raisers and round tables.
It is not clear when Michelle Obama, who delivered what was widely regarded as the best speech at the 2012 convention, will speak. But planners have privately said they believe her address could attract the widest viewership outside of Mr. Biden's.
Mrs. Obama has been spending much of her time in recent days working on her speech at her family's mansion on Martha's Vineyard, and has told friends that she views it as her major contribution to the 2020 race, according to two people with knowledge of her planning.
The big names will be augmented by testimonials from "voters of all kinds — delegates, parents, teachers, small-business owners, essential workers, activists and elected leaders," culled from "1,000 crowdsourced videos," officials with the convention's organizing committee announced on Monday.
The "Big Three" broadcast networks — ABC, CBS and NBC — plan to air an hour of the convention live each night, from 10 to 11 p.m. Eastern, according to network officials. Cable channels like CNN, Fox News and MSNBC will cover the full length of the nightly proceedings.
Team Trump sends mixed messages on the president's idea of accepting the nomination at the White House.
The Republican National Committee chairwoman, Ronna McDaniel, said on Monday that Mr. Trump had "every right" to give his acceptance speech from the South Lawn of the White House — just a day after the president's chief of staff, Mark Meadows, suggested the speech be delivered from another ZIP code.
"Here's my personal opinion: If Joe Biden can live in his basement, the president has every right to talk in front of his house, which is the White House," Ms. McDaniel said on "Fox & Friends" — a show Mr. Trump watches regularly.
"Oh, I'm not going to go there yet," she added, when asked if any decision had been made. "I think that's going to be up to the president to announce that."
On Sunday, Mr. Meadows, a former North Carolina congressman who frequently accused President Barack Obama of abusing his executive authority, expressed disapproval for the idea, which was widely panned by ethics experts.
"Those decisions are still in flux, but I can tell you what I'm advocating for is miles and miles away from here," Mr. Meadows said in an interview with Greta Van Susteren that aired Sunday morning.
Mr. Meadows appeared to backtrack in a later interview with CNN on Sunday, saying that the ceremonial East Wing of the White House would be an appropriate venue.
Mr. Trump, who has obliterated the line between the political and the governmental in a series of Biden-bashing events on White House property, floated the idea of delivering his speech from the lawn after announcing he would not attend convention events in North Carolina or Florida.
Federal employees are barred from politicking on government property by the Hatch Act; the president and vice president are exempted from those restrictions.
Trump calls subpoena for his tax returns illegal 'harassment.'
Mr. Trump, in a court filing seeking to block the Manhattan district attorney, Cyrus R. Vance Jr., from obtaining eight years of his tax returns, said Monday that the efforts amounted to illegal harassment.
The argument came in response to a filing last week by Mr. Vance's office, which said prosecutors had a wide basis to subpoena financial documents. The office suggested it was investigating the president and his company for possible bank and insurance fraud, a broader inquiry than prosecutors have acknowledged in the past.
In their new filing, Mr. Trump's lawyers wrote that even if Mr. Vance's office were conducting a sprawling inquiry into financial crimes, the subpoena was still too broad.
"If anything, it shows that the district attorney is still fishing for a way to justify his harassment of the president," Mr. Trump's lawyers wrote.
The filing was the latest salvo in Mr. Trump's nearly yearlong fight with Mr. Vance, a Democrat who last August subpoenaed Mr. Trump's accounting firm, Mazars USA, seeking eight years of his personal and business tax returns and other financial records.
Mr. Trump's lawyers noted that the subpoena "asks for every document and communication related to the president and his businesses over about the last decade."
A traditionally huge moment in the race will unfold soon — but much differently.
There are traditionally three hinge-point moments for presidential challengers: the selection of a running mate, the convention and the debates.
Of course, this is no traditional campaign.
But with the pandemic transforming the conventions from balloon-and-bunting extravaganzas to online events, and Mr. Trump's demands for additional debates and specific moderators, Mr. Biden's announcement this week of his running mate could be as close as the campaign gets to normal.
Mr. Biden's advisers say he has spoken with several of the leading candidates in recent days, and it has been confirmed that he met in person Aug. 2 with Gov. Gretchen Whitmer of Michigan. We do not know how many face-to-face interviews Mr. Biden has conducted with potential running mates. A small number of women remain under serious consideration.
Mr. Biden's vice-presidential rollout won't look much like past unveilings. With him and his campaign strictly adhering to social distancing guidelines, the former vice president is expected to appear publicly with his running mate by the end of the week — just not before the usual crowd of cheering supporters.
For a candidate who's leading but not enjoying a groundswell of enthusiasm, that means an event that looks much like his appearances since he claimed the nomination: carefully staged, produced for television and online consumption, and decaffeinated.
Democrats, of course, will take it, preferring a scripted and front-running Biden in these sober times to the alternative. But the vice-presidential reveal is just a trial run for next week. That's when the party will have to recreate an entire convention across four nights of prime-time with no live audience — to say nothing of balloons or bunting.
With two men running for president, sexism shifts to the V.P. race.
Immodest. Ambitious. Unlikable. These are the strangely enduring criticisms that travel with women in politics, no matter how many firsts keep adding up or how numerous their congressional numbers become, The Times's Jessica Bennett writes in a news analysis.
And those words have reignited another debate about sexist double standards, as Mr. Biden inches closer to announcing his running mate.
When Stacey Abrams, the former Georgia legislator and the first Black woman in the country to be a major party's nominee for governor, stated bluntly in April that she "would be an excellent running mate" for Mr. Biden, she was criticized as being inadequately self-effacing.
Senator Kamala Harris, one of three Black women considered a front-runner for that slot, has not said publicly that she wants the position. But she did of course run for president — causing at least one Democratic donor to remark that she had too much "ambition."
She can also "rub people the wrong way," according to Ed Rendell, the former Pennsylvania governor who is close with Mr. Biden. And she was viewed as insufficiently apologetic after she excoriated Mr. Biden on an early debate stage, questioning his policies on busing, with the nerve to later laugh it off as "politics."
"She had no remorse," Chris Dodd, a longtime friend of Mr. Biden's who is on his vice-presidential vetting panel, reportedly told donors.
American politics may have moved beyond a time when a female candidate would be asked if she could bake a blueberry muffin (that was Geraldine Ferraro in 1984), but it hasn't moved that far.
Barr says 'fascistic' protests are fueled by the left's 'lust for power.'
Attorney General William P. Barr, embracing dual roles of partisan warrior and the nation's top law enforcement official, on Sunday described demonstrators against police brutality as "fascistic" standard-bearers of a Democratic Party veering dangerously to the left.
Mr. Barr, who was present when federal officers tear-gassed peaceful demonstrators near the White House in June, vowed to use the Justice Department to combat what he called "urban guerrilla warfare" waged by protesters in Portland, Ore., and other cities, during an interview with the right-wing radio personality Mark Levin.
"They are a revolutionary group that is interested in some form of socialism, communism. They're essentially Bolsheviks. Their tactics are fascistic," Mr. Barr said when asked by Mr. Levin about Black Lives Matter protesters and demonstrators Mr. Levin described as "antifa."
Mr. Barr has been a fierce defender of Mr. Trump throughout his tenure. But his comments to Mr. Levin were among his most pointed verbal attacks to date, blurring the distinction between mainstream Democratic leaders — who have expressed support for peaceful protest — and the violent minority of demonstrators in Oregon and elsewhere.
Mr. Trump has seized on scenes of national unrest to build a law-and-order message for his re-election campaign, and on Monday he again called for the National Guard to be sent to Portland. But the Trump administration's decision to dispatch militarized federal agents to the city last month drew criticism from state and city officials, who said the agents exceeded their authority and harmed peaceful protesters.
Mr. Biden said last month that the deployment of federal agents to an already volatile situation showed that Mr. Trump was "determined to sow chaos and division. To make matters worse instead of better."
Mr. Barr on Sunday portrayed the protests, which erupted after the police killing of George Floyd in Minneapolis, as part of a long-term strategy to defeat Mr. Trump.
"They were trying to impeach him from Day 1," he said. "It's the lust for power. And they weren't expecting Trump's victory. And it outrages them."
Massachusetts mayor stays in House race amid sexual misconduct investigation.
Alex Morse, the Democratic mayor of Holyoke, Mass., who is seeking to unseat the House Ways and Means Committee Chairman, Richard E. Neal, is remaining in the race despite allegations he misused his teaching position at the University of Massachusetts Amherst to have sex with students.
Mr. Morse, 31, admitted in a statement on Sunday that he had engaged in "consensual relationships with other men, including students enrolled at local universities that I've met using dating apps," but denied he had done anything inappropriate or unethical.
"While I am confident that a full investigation into these matters will clear my name completely of any unethical conduct, I also recognize that some students felt uncomfortable with interactions they had with me," he wrote. "I am sorry for that. This is unacceptable behavior for anyone with institutional power."
Mr. Morse, whose candidacy has been supported by progressive groups like Justice Democrats, faces Mr. Neal in a Sept. 1 primary.
His statement came after the school's student newspaper, The Massachusetts Daily Collegian, reported that the university was investigating claims, made in a letter from the College Democrats of Massachusetts, that Mr. Morse had abused "his position of power for romantic or sexual gain."
Mr. Morse was hired as a political science lecturer in 2014 and last taught as an adjunct professor in an urban politics course last fall. He is not currently employed at the school, university officials have said.
The allegations present a major challenge for a man widely seen as a rising star in local Democratic politics. Mr. Morse was elected mayor of Holyoke, a city of 40,000 near Springfield, nine years ago at the age of 22, becoming the city's first openly gay and youngest mayor.
Biden's campaign welcomes allies of Big Tech.
Mr. Biden has been critical of Big Tech, admonishing Facebook for mishandling misinformation and saying internet companies should lose a central legal protection.
But his campaign has quietly welcomed onto its staff and policy groups people who have worked with or for Silicon Valley giants, raising concerns among the industry's critics that the companies are seeking to co-opt a potential Biden administration.
One of Mr. Biden's closest aides joined the campaign from Apple, while others held senior roles at firms that consulted for major tech companies. And a nearly 700-person volunteer group advising the campaign, the Innovation Policy Committee, includes at least eight people who work for Facebook, Amazon, Google and Apple, according to documents reviewed by The New York Times. Other committee members have close ties to the companies, including economists and lawyers who have advised them, and officials at think tanks funded by them.
The group's members also include some prominent progressives arguing for stiffer regulation of tech. But the presence of the industry's allies inside Mr. Biden's policy apparatus and campaign and transition teams — and his campaign's effort to ensure the confidentiality of its policy process — has alarmed an increasingly influential coalition of liberals who say the tech titans stifle competition, disregard user privacy and fail to adequately police hate speech and disinformation.
They are hoping to dissuade Mr. Biden, who has not made tech issues a major focus of his campaign, from following the example of his former boss, Mr. Obama, whose embrace of tech companies helped turn them into darlings in Washington.
Jill Biden wants to keep teaching as first lady, she said on a new podcast with Obama administration alums.
The three hosts of a new podcast, "Pod Is a Woman," said last week that their first choice for a guest on the first episode was Jill Biden.
"Joe Biden was our backup," said one of the hosts, Johanna Maska.
The podcast, hosted by three women who worked in the Obama White House, debuted on Monday morning with discussions of current events, popular culture — and, of course, the 2020 presidential election.
On the episode, Dr. Biden rejected efforts to minimize or demean the decision by Mr. Biden to select a woman as his running mate.
"This is a major job," Jill Biden said. "This woman is going to have to handle all kinds of problems and be a governing partner."
(The co-host Alejandra Campoverdi's effort to persuade Dr. Biden to reveal her husband's selection — "Dr. Biden, we're among friends right now, right?" — was unsuccessful.)
An English professor at a community college, Dr. Biden said she hoped to teach part time, perhaps virtually, should she become first lady, and pledged that a Biden administration would make community college free.
"One thing that will create equity in education is to make sure that we have universal prekindergarten," she said. "So that every 3- and 4-year-old starts at the same level — exact same level."
Along with Ms. Campoverdi, a former White House deputy director of Hispanic media, and Ms. Maska, who was the White House press advance director, "Pod Is A Woman" is hosted by Darienne Page, President Barack Obama's director of veterans and military families outreach.
As podcasters who are friends from the Obama administration, they recall Crooked Media's stable of shows, including "Pod Save America." Theirs is another instance of the increasingly porous line between political operatives and media personalities.
Not that the three were conceiving their show so deliberatively. "We didn't say, 'OK, let's get a blonde and a brunette,'" Ms. Campoverdi said. "We didn't Noah's Ark this podcast."
Reporting was contributed by Alexander Burns, Jessica Bennett, Shane Goldmacher, Michael M. Grynbaum, Nicole Hong, Thomas Kaplan, Kate Kelly, Jonathan Martin, David McCabe, Ben Smith, Glenn Thrush, Marc Tracy, Kenneth P. Vogel and Benjamin Weiser.
Updated Aug. 10, 2020
---

---

Here are 13 women who have been under consideration to be Joe Biden's running mate, and why each might be chosen — and might not be.

---

Get an email recapping the day's news